Faculty training found in Signal Hill, California to become a nurse aide is shared below. Only the school programs that have met the approval of the state are listed here. Call the phone number to learn more about their class offerings.
[There are no CNA Classes in Signal Hill, CA that are currently being offered for enrollment.]
Before you can work as a nursing assistant in California you must first acquire a CNA certification. Getting a nursing assistant certification in this state requires the completion of different requirements. These requirements involve completing an approved training program, passing the background checks, and challenging the state certification exam.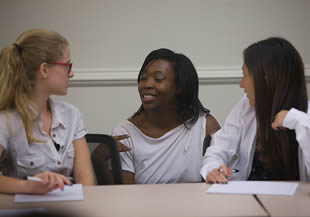 Each program has its own set of requirements for enrollment. However, many of them will require the following:
•    You must be at least 18 years old
•    Basic proficiency in English is a must
•    You must have a high school diploma or a GED certificate
•    You must have no criminal records that prevent you from getting certified as a nursing assistant.
•    You must be free of any infectious diseases and be physically capable of taking care of patients.
Remember to only enroll in a program that is approved by the state's Department of Public Health. State-approved programs take 150 hours to complete. Their training curriculum consists of classroom instructions and practical training. Students are taught concepts such as the following:
•    Human Anatomy and Physiology
•    Nutrition
•    Body Mechanics
•    Basic Nursing Care
•    Vital Signs
•    Safety and Emergency Procedures
•    Mental Health
•    Interpersonal Skills
•    Patient Rights
•    Medical Terminology
Once you complete your training you will be allowed to submit the application form for the certification exam. You can get a copy of the forms from this link: http://www.asisvcs.com/publications/pdf/070508.pdf. Mail your application form to the Regional Testing Center in your area. When submitting please do not forget to include the payment of the testing fee of $90.
Payments must only be in the form of money orders, cashier's checks, or company checks. Personal checks and cash are not accepted. Payments made on the exam date will not be accepted. Please remember that incomplete applications will not be accepted.
The certification exam is divided into two parts. The first part is the 2-hour knowledge test. Candidates may take the knowledge test in a written or oral exam. The second part is the clinical skills test. Candidates are asked to perform 5 nursing procedures in front of an evaluator. They are given 25 minutes to perform all procedures.
You can only get certified if you pass all the tests. You can expect your CNA certificate to arrive at your address within 10 working days after passing. If you fail to receive your certificate within 30 days, please call (916) 327-2447.
This small city is a part of the Greater Los Angeles area. As of the census of 2010, they now have a total population of 11,016. This city is completely surrounded by Long Beach City. Signal Hill has a total area of approximately 2.191 sq miles, and a population density of 5,027.8/sq miles.
Universal Care is considered the fourth biggest employer in the city. It has over 200 employees working for them. Examples of other health care providers in the area include Accountable Health Care, California Healthcare Staffing, Healthcare Enrichment Program, Courtyard Care Center, Health Care Consultants, Usana Health Sciences, Edge Systems Corp, Willow Urgent Care, and International Health Care Devices. photo attribution: departmentofed