One who lives in the area of Santa Paula, California can find the facilities offering nursing assistant classes that are currently open for enrollment on this page. If you know other programs, send them to us and we will add them to the list.
Santa Paula Health Care Nurse Aide Course
220 West Main Street,
Santa Paula, CA 93060
(805) 525-6621
Twin Pines Health Care
250 March Street,
Santa Paula, CA 93060
(805) 525-7134
A CNA certificate is a requirement to work as a nursing aide in California. The Aide and Technician Certification Section is responsible for issuing nursing aide certificates in California. You can get a certificate by passing all the tests of the certification exam.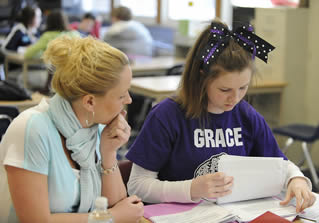 Before you can challenge the exam you must first establish eligibility to apply by attending a state-approved  training program. It is important that you equip yourself with the knowledge and skills needed to be a competent nursing aide. You can find suitable training programs offered by hospitals, nursing homes, assisted living centers, rehabilitation centers, community colleges, vocational colleges, technical colleges, and other training facilities.
To be accepted in a program you must be at least 18 years old and possess a high school diploma or a GED. You will undergo physical examinations to determine that you are physically capable of taking care of patients as well as medical test to make sure that you do not have any communicable disease. It is also important that you have a clean criminal record or at least don't have any record that prevents you from getting certified as a nurse aide.
When you enter a program you will be spending your time in the classroom for lectures and in the clinical area for practical training. All training programs are headed by qualified Instructors with sufficient background experiences in nursing and in teaching adults.
If you completed a nursing education program as a nursing graduate, registered nurse, or a licensed vocational nurse you can immediately apply for the certification exam by providing, along with your application, proof of education and training.
The certification exam consists of a 70-item multiple-choice test and a skills evaluation exam. All aspiring nursing aides must pass all tests to get certified. If you have trouble reading English, you can request to take the oral version of the test. It is important that you make the request for the oral exam during the submission of your application to the testing center.
The certification exam in California is conducted by Pearson VUE. In accordance with the Americans with Disabilities Act, each candidate has a right to request for special accommodation upon taking the test. The application for the accommodation must also be made upon application. Requests made on the day of the exam will not and cannot be processed.
This city can be found within the borders of Ventura County. According to the 2010 census, they have a total population of about 29,321 people. This city has been named as the "Citrus Capital of the World". Santa Paula has a total area of approximately 4.707 sq miles and a population density of 6,229.2/sq miles. The main economy of this city is focused on agriculture mainly oranges and lemons.
Examples of health care centers in the city include Santa Paula Hospital – Santa Paula Medical Clinic, Twin Pines Health Care, Kidney Center Inc., Centers for Family Health, Dialysis Center of Santa Paula, Santa Paula Healthcare, Hely & Weber Orthopedic & Sports Medicine, and Clinicas Del Camino Real, Inc. photo attribution: departmentofed