The CNA classes in San Francisco, California are listed below on this page. For more information about certified nursing assistant classes, schedules, tuition fees, and requirements, please call the phone number provided.
City College Of San Francisco-john Adams
1860 Hayes St.
San Francisco, CA 94117
(415) 561-1909
City College Of S.f.-southeast
1800 Oakdale Ave.
San Francisco, CA 94124
(415) 550-4300
Arriba Juntos
1850 Mission St.
San Francisco, CA 94103
(415) 487-3240
California Nurses And Vocational Institute
78 Ocean Ave.
San Francisco, CA 94112
(415) 406-1561
Oxman College
375 3rd Ave.
San Francisco, CA 94118
(415) 751-6461
[multiple Classes Available]
American Care Quest
1426 Fillmore St.
San Francisco, CA 94115
(415) 885-9100
California Nursing Academy
4200 California St.; Ste-101
San Francisco, CA 94118
(415) 425-6445
To work as a nursing assistant in California you must successfully complete a state-approved CNA program and pass all the tests of the NNAAP exam. According to the OBRA '87, all nursing assistants must be properly trained and certified in order to work in a state-approved healthcare facility.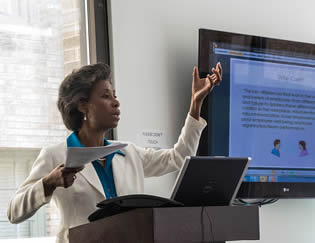 The NNAAP exam was developed to test the competency of aspiring nursing assistants. This is a two part examination that consists of a written/oral knowledge test and a random skills evaluation. If you do not know which type of knowledge test to take you can visit www.pearsonvue.com or www.cdph.ca.gov and download a copy of the Candidate Handbook. The handbook contains a self-assessment reading test as well as a sample exam and a complete skills check list.
Completing a state-approved CNA program is one of the ways to become qualified to apply for the NNAAP exam.  Certified nurse aide training in California takes 150 hours to complete. The hours are divided into 50 hours of classroom training and 100 hours of supervised clinical practice. Depending on the program you choose, it can take 2 to 6 months to complete your training. You can call a representative of the Training Program Review Unit or TPRU at (916) 552-8873 to learn if a school program meets state requirements.
Registered nurses, licensed practical nurses, medics, military corpsmen, and nursing students and graduates are allowed to apply for the NNAAP exam without any further training. Those who wish to apply are advised to call the CDPH at (916) 327-2445 before submitting their applications to the Regional Testing Center.
In order to get certified candidates must pass both tests within 2 years of completing their training. If they fail a test, they are allowed to reapply and retake the test that they failed. If a candidate fails to pass after a 3rd attempt or within 2 years after completing his or her training, he or she will be required to complete another 150-hour training program before applying for the NNAAP exam again.
The NNAAP exam scheduling is on a first-come, first-serve basis. If you are unavailable at your scheduled date, you can immediately request for a rescheduling. To avoid any additional payments, please inform the testing center at least 2 days before the exam date.
California is open to certified nursing assistants from other states. If they wish to transfer and work in California, they must first apply for reciprocity. To qualify, CNAs must have a current certification and a clean record with their state. Candidates through this process are still required to get fingerprinted and undergo federal and state background checks for criminal records.
San Francisco is officially known as City and County of San Francisco. It is also the center of the San Francisco Bay Area. It has a total area of 46.9 square miles and a population density of 17,179 people per square mile. According to the latest census, their population has now reached up to 805,235. It is the second most populated city in the entire country.
The health sector of San Francisco is composed of centers and clinics such as South of Market Health Center, Presidio Sport and Medicine, Ucsf Screening and Acute Care Center, Physician Timeshare, Curry Senior Center, Magnolia Chiropractic Wellness Center, Greens Eye Medical Group, and many more. photo attribution: usdagov