The CNA Classes in Sacramento, California and located within Sacramento County, and the surrounding areas are listed below. Call one of the nursing assistant training schools below to get further details about enrolling in one of their programs.
American River College
4700 College Oak Drive,
Sacramento, CA 95841
(916) 484-8176
Caj Skills Nurse Aide Course
5451 Lemon Hill Ave.,
Sacramento, California 95482
(916) 433-2600
Good Shepherd Nurse Training Program
4727 Engle Rd.,
Carmichael, CA 95608
(916) 978-8670
Greenfield Nursing Assistant Course
5255 Hemlock Street, Sacramento, California 95841
(916) 331-4590
Kash Career College
2949 Fulton Avenue,
Sacramento, CA 95821
(916) 978-0700
Prime Health Career Center of Sacramento
4640 Northgate Blvd.,
Sacramento, CA 95834
(916) 441-2227
Sacramento County Office of Education CNA Course
9738 Lincoln Village,
Sacramento, California 95827
(916) 228-2731
Seeds College of Nursing
2831 Fruitridge Road,
Sacramento, California 95820
(916) 452-3392
Sunbridge Nurse Aide Course
8336 Fair Oaks Blvd.,
Carmichael, CA 95608
Phone: (916) 944-3100
Twin Rivers Adult School
5201 Arnold Avenue,
McClellan, CA 95652
(916) 566-2785
Winterstein CNA Training Program
900 Morse Ave.,
Sacramento, CA 95864
(916) 971-7419
Woodside Nurse Aide Training
2240 Northrop Avenue,
Sacramento, CA 95825
(916) 927-9300
In the state of California it is necessary to take a nursing assistant course to gain the skills you will need on the job before you are allowed to take the certification exam. Classes are required to provide at the least 16 hours of CNA skills training in a nursing facility setting and 75 hours of course work related to working in a nursing health care center. In most cases programs last about 6-8 weeks.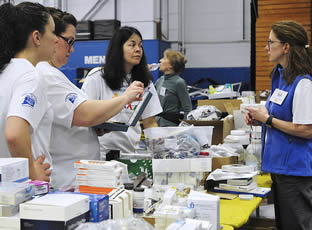 Some of the skills you will study and practice using during instruction are:
• Bathing patients including those in wheelchairs and in a bed
• Measuring and recording vital signs (Pulse, Temperature, Respiration & Blood Pressure)
• Feeding and assisting with residents meals and hydration
• Dressing a dependent patient
• Transporting those is a wheelchair
• Assisting a patient use the bathroom facilities
• Measuring and recording a Catheter
• Range of Motion exercises
• Housekeeping skills
• Infection control and best practices
Before enrolling in a training course make sure the school is approved by the state of California and provides the required amount of hours of instruction. The Training Program Review Unit is the organization that is tasked with verifying a program is authorized and you can reach them at (916) 552-8873.
You can apply to take the certification exams by applying with your school transcripts, photo ID, background check, fingerprint card, proof of immunization and testing fees. The exam contains a written or oral exam to demonstrate you have the experience for the job.
Upon completion you are placed on the state registry and eligible to work in California. Entry on the registry is valid for a two year period and will require that you stay current with your address and contact details as well as submit work verification to remain in good standing. To get the latest details about requirements you can contact the CA Department of Public Health  at their phone line (916) 327-2445 or via email at cna@cdph.ca.gov.  photo attribution: westconn