The schools available in Ripon, California that conduct nurse aide classes approved by the state are shown to you below. The list is composed of different training programs provided by both public schools and health care centers. For more information about exam requirements, tuition cost, or class schedules, contact the number provided.
Ripon Unified School District
304 North Acacia Avenue,
Ripon, CA 95336
(209) 599-2131
Bethany Home Society of San Joaquin County
930 West Main Street,
Ripon, California 95366
There are plenty of working opportunities waiting for those who are pursuing a career in health. If you are looking for a practical means of entering this industry, then you should start to think about becoming a nursing aide. Certified nursing aides are greatly in demand throughout the United States. Not only is the process of becoming one quick, but there are different routes that you can take.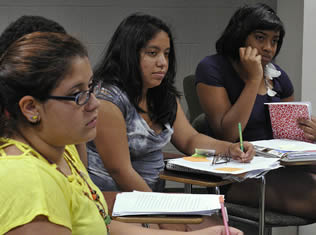 Completing a CDPH-approved NATP, getting Military Education, or learning the Fundamentals of Nursing through a nursing education program can all lead you to become a nursing aide. By meeting any of those mentioned, you will become eligible to challenge the certification exam. According to federal and state regulations, all nursing aides must be certified to work in a certified nursing facility. Employers will only hire certified nursing aides also.
The certification exam in this state is handled by Pearson VUE. It consists of a written 70-item multiple-choice exam and a practical skills test. Both tests are taken on the same day and must be passed to get certified. If a candidate has trouble reading English, he can request to have an oral exam instead. This request must be made upon submission of the applications. Those with certain disabilities that require special considerations must also make their requests upon application.
On the day of the exam, please arrive at least 20-30 minutes before the actual scheduled time. Late arrivals will not be permitted to take the exam once it has started and will not receive a refund. If you are unable to take the exam on your scheduled time, you are entitled to one free rescheduling. To avoid any penalties, please inform Pearson VUE at least 2 business days before your exam date. If you fail to inform in advance, you will be charged with an additional fee of $25.
If there are no technical problems, the results of the exams are returned on the same day. If you pass both of them, you can expect your certificate to be mailed to your address within 10 business days. If you wish to check your status as a certified nursing aide, you can go online at http://www.apps.cdph.ca.gov/cvl/SearchPage.aspx or call the ATCS automated response number at (916) 327-2445.
Ripon is a city that is part of San Joaquin County. As of the latest census, they have a total of 14,297 citizens. The total area of Ripon is approximately 5.495 sq miles where 3% of it is water. They population density of this city is around 2,601.8/sq miles. The economy of this city is majorly based on agriculture, especially on almond production.
Examples of health care centers that you can find within the city include Dutter And Hufford Daley Mds 209-599-4211 ‎, Johannes R. Sikkema, Doctor 209-599-7073 , Devra A. Bommarito, PT 209-599-7073 , Workwell (209) 599-7194, and Ripon Chiropractic Clinic (209) 599-4196. photo attribution: westconn