The training centers providing CNA classes in Rancho Cucamonga, California are provided for you in detail on this page. For more information on their certification course, just contact the number that is provided.
Baldy View R.O.P. – MONTCLAIR
8265 Aspen Avenue #100
Rancho Cucamonga, CA 91730
(909) 624-0063
[Multiple classes available]
Chaffey College
5885 Haven Avenue
Rancho Cucamonga, CA 91737
(909) 941-2191
Website: http://www.chaffey.edu/
Nvision Education
9439 Archibald Ave #109
Rancho Cucamonga, CA 91730
(909) 728-3663
Nursing assistance is a basic entry-level profession. Training to become a nursing assistant is a great way to start a career in the field of healthcare. There are different requirements that must be met before one can start working as one in California.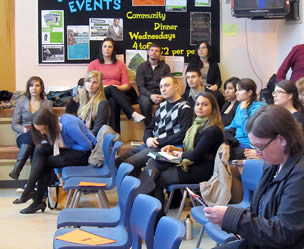 First of all, in order to properly take care of the patients, you must equip yourself with the proper knowledge and skills. You can do this by enrolling in a state-approved CNA program. These programs are offered through nursing homes, hospitals, assisted living centers, vocational and technical schools, community colleges, and government organizations. There are also some websites that offer partial online training classes that are being honored by the state. This means that you can learn your lessons through the internet and will only meet up when it is time for skills training.
To ensure that your training will meet the standards of the state of California, the training program you enroll in should be approved by the Aide and Technician Certification Section. It is the institution that is in charge of approving training programs. To find out if a program is currently accepted you can call the (TPRU) Training Program Review Unit at (916) 552-8873.
Upon enrollment into a CDPH-approved program, all students must be fingerprinted through the Live Scan Process. This is for the mandatory criminal background check for all aspiring nursing assistants. A copy of the completed Request for Live Scan Services must be sent to the ACTS before the start of the clinical rotation of the program. No student is allowed to proceed to the clinical area without undergoing the background checks.
CNA training in California consists of at least 50 hours of classroom lessons and 100 hours of supervised clinical practice. Students will have the chance to experience what it is like to take care of actual patients. Since they are still under training, students are not allowed to perform any procedure that has not yet been taken up in class. They are also prohibited from performing without the knowledge of their clinical instructor.
As soon as you are through with your training, the next step is to complete the Initial Application form (http://www.asisvcs.com/publications/pdf/070503.pdf) for CNA certification. Submitting this form to the CDPH will establish your eligibility to apply for the certification exam. You can only work in a state-certified nursing facility as a nursing aide if you pass this exam.
This exam consists of a 70-item knowledge test and a clinical skills evaluation. Candidates will have 2 hours to answer all multiple-choice questions on the knowledge test and 25 minutes to perform 5 randomly selected nursing procedures for the skills evaluation. You must pass all the tests to get certified as a nursing assistant.
The California certification exam is conducted with the assistance of Pearson VUE at Regional Testing Centers. To help you better prepare for the exam, you can go to their website at www.pearsonvue.com and download a copy of the Candidate Handbook. This handbook contains important information about the exam such as:
•    A Nursing Assistant Practice Written Examination Sample Test
•    A complete copy of the Skills Check List
•    A self-assessment Reading test
•    Knowledge test content outline
•    Testing Policies
This city is located in San Bernardino County. As of the last census, it has about 165,269 people living there. It ranks 3rd as the most populous city in the entire County and 28th in the entire state of California. It was also deemed by Money as the 42nd best place to live in the US back in 2006.
Health care centers in the city include Chapparal Medical Group, STD Test Express, Healthcare Facilities, Healthcare Facilities, Kindred Health Care, Haven Psychological Associates, Aids Health Care Foundation, Interim Psychiatric Care, and Medicor Medical Group. photo attribution: ufv