The nursing assistant schools found on this page are all the available courses in Rancho Cordova, California as of the moment. For more information about their certified training programs, you can call the phone number provided.
Casa Coloma Health Care
10410 Coloma Road,
Rancho Cordova, CA 95670
(916) 363-4843
There are plenty of jobs waiting in the field of health. One of the most in demand healthcare providers is the nursing aide. Becoming a nursing aide is currently considered as one of the best way to start a career in the field of medicine.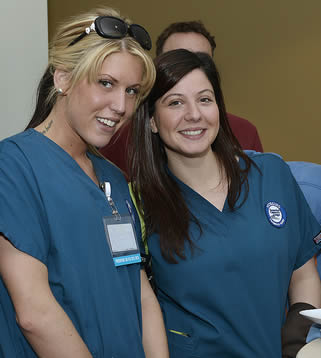 If you are looking of a job in California as a nursing assistant, then it is best to know the different requirements of the state. Currently, you will need to enroll in a state recommended instruction course and pass the state licenses exams. CNA classes offer coursework & theoretical instruction as well as skills practice. This will allow you to properly prepare for the job and give you the experience to pass the competency exams. According to the rules of the state, applicants of GED and above educational attainment may apply to enroll in the program.
The first step in becoming a nursing aide is to enroll in a state-approved CNA training program. It is important to learn all the things that you will need to properly take care of the patients. Training programs take a minimum of 150 hours to complete. The hours are divided into lectures and clinical practice. Depending on the program you enrolled in, it can take 1 to 6 months to complete your training. You may either choose to enroll in a combo offline and online course or in all facility-based training programs. You have to meet the required amount of hours in order to complete the program.
If you want to make the most of your time and further improve your training, you can enroll in a home health aide training program. Since you are already enrolled in a 150-hour CNA program, you are only required to enroll in a 40-hour HHA program. The training hours are divided equally for lectures and supervised clinical practice.
Completing a CNA training program will make you eligible to apply for the certification exam. Taking the exam is a necessary step since the state only allows certified nursing aides to work in a CDPH-approved nursing home. The certification exam consists of two parts – a written knowledge test and a clinical skills exam. You have to pass both parts to get your license. You will be allotted three tries within two years to pass the exams. Those who have trouble reading English can request to take an oral exam for the knowledge test instead. Candidates are required to pass both parts of the test to get certified.
The state has authorized the Pearson VUE Testing Company to assist in conducting, scoring, and releasing the exam results. If you visit their website, you can download a copy of the Candidate Handbook or a Sample Knowledge Test. You can also view the available dates of the testing sites.  For any other questions, please contact the CDPH at (916) 3327-2445 during working hours (from 8:00 A.M. to 5:00 P.M.). You can also visit their official website at www.cdph.ca.gov.
This is a city that is situated in Sacramento County. It is also part of the Sacramento Metropolitan Area. According to the 2010 census, their population has now grown over 64,776 people. The city's original name used to be Mayhew's Crossing and Hangtown Crossing. It has a total area of 33.874 sq miles and a population density of 1,912.3/sq miles.
Health Net, Delta Dental of California, Catholic Healthcare West, and Sutter Health are some of the biggest employers in the city. Each company has more than 500 employees working for them. Other health care facilities/providers in the area include Pediatric Urgent Care of Rancho Cordova Inc., Biag Marita Barlahan MD, Mercy White Rock Family Center, Mercy Medical Group Job Line, Mercy Healthcare Sacramento-A Part of Catholic Healthcare West – Non Nursing, Mercy Healthcare Warehouse, and Mercy Lifeline Services. photo attribution: westconn