Classes available in the city of Porterville, California that teach one how to become a certified nursing assistant can be seen here. If you have any questions regarding how to become licensed to work, tuition fees, or nurse aide training schedules, please contact the number provided or go to the address during working hours.
Porterville Adult School
900 West Pioneer Ave
Porterville, CA 93257
(559) 782-7030
Porterville Adult School/valley Care
568 W. Olive
Porterville, CA 93257
(559) 782-7030
[multiple Classes Available]
Porterville Adult School
1100 West Mortin
Porterville, CA 93257
(559) 782-7030
With the U.S. economy today, there are a lot of people who are losing their jobs. Luckily, the health industry will always have work ready. As the number of the elderly increases, the demand for health care providers also increases. One of the most in demand healthcare providers today is the nursing aide.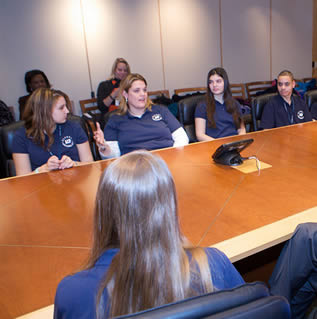 Nursing aides work under the watchful eyes of the registered nurses. They help them provide nursing and nursing-related care to patients in different healthcare settings, including the patient's own home. If you check the job description, you can find that the tasks a nursing aide does include bathing the patients, helping them dress, assisting in eating, getting them from one place to another, and other daily activities.
California is one of the best states to practice and become a nursing aide. The demand for nursing aides in this state is higher than the nation's average. Depending on where the nursing aide works, he or she can make an annual salary somewhere from $20,000 to $38,000.
According to the OBRA of '87 all nursing aides must be certified to work in a state-approved nursing facility or a long-term care center. For those who have never been certified as a nursing aide before they are required to challenge both the knowledge exam and the practical skills test of the National Nurse Aide Assessment Program.
The best way to be eligible to apply for the exam is to attend and complete a 150-hour CNA training program. The training consists of a minimum of 50 hours of lectures and at least 100 hours of supervised clinical practice. Students are handled by a registered nurse with a at least 2 years of nursing experience and has some background in training adults.
Another way of getting certified in this state is through reciprocity. This process is only for individuals who are already certified as nursing aides in other states. Applicants are required to have a current certification and a clean record. All applicants are still required to undergo fingerprinting in California and pass the national background check for criminal records. For more information, please visit www.cdph.ca.gov or you can call the CDPH during working hours at (916) 327-2445 and talk to a CNA representative.
This city is located in the San Joaquin Valley which is in Tulare County. As of the latest census, their population is now up to 54,165. You can find this city on the Tule River which is at the base of the western foothills of the Sierra Nevada mountains. It has a total area of 17.679 sq miles and a population density of 3,063.8/sq miles.
Health care clinics in the city include Sequoia Family Medical Center, Family HealthCare Network, Porterville Valley Promptcare, Cancer Treatment Center, Tri-County Medical Imaging Services, Tule River Indian Health Center, Sandhu Harpreet S MD, and Premier Pathology Laboratories. photo attribution: departmentofed