The CNA classes in Pittsburgh, Pennsylvania that are being offered as of the making of this page are all shown to you on this page. For more information about enrolling in a state approved certification course, please call the phone numbers below.
County College of Allegheny County
Downtown Center 625,
Pittsburgh, PA 15222
(412) 391-1210
Highland Park Care
745 North Highland,
Pittsburgh, PA 15206
(412) 362-6622
Marian Manor
2695 Winchester Drive,
Pittsburgh, PA 15220
(412) 440-4300
Pittsburgh Job Corps Center
7175 Highland Drive,
Pittsburgh, PA 15206
(412) 441-8700
Southwestern Nursing Center
500 North Lewis Run Rd.,
Pittsburgh, PA 15122
(412) 466-0600
A person can only work in Pennsylvania if his or her name is listed on the Nurse Aide Registry. You can gain entry into the NAR either by challenging the license exams or by applying for reciprocity. Each route has its own set of requirements that must be met before one can get a license.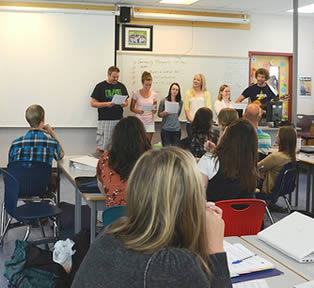 For most people it is necessary to first complete state approved training and pass the license examinations. Additionally, there are some requirements that must be met before one can take the exams such as submitting a completed application, photo identification, and passing the criminal background check.
CNA training in this state consists of 80 hours of instructions. Training curriculum is divided into both theory and (37.5 hours) hands-on training. During the training program, students will learn about important nursing concepts such as infection control, mental rehabilitation, medical terminologies, human anatomy, and other related concepts. Students will also be taught the basic nursing skills and procedures such as safety and emergency care, taking of vital signs, assisting with ambulation, performing passing ROM exercises, catheter care, feeding through NGT, and applying stockings. It may take you 12 to 24 weeks to complete your training.
Once you complete your training, you may then submit your application forms for the license exams. There are some training facilities that submit the application forms and schedule the exams for their students. Candidates can also acquire a copy of the application forms by going to www.pearsonvue.com or by calling the American Red Cross at (800) 795-2350.
Nurse aide certification through testing
The license exam is a two part examination that consists of a written (oral) exam and a practical skills test. Both tests are conducted on the same day at an approved testing facility. For the manual skills test you will need to demonstrate in a live setting five of the skills you learned during your instruction class. For the written component you will be required to answer fifty multiple choice questions based on nursing related duties and procedures.
Candidates must pass both tests in order to get into the NAR. One may only apply for the license exams if one is able to meet any of the following:
–    Complete an 80 hour CNA program that is approved by the state.
–    Complete at least one semester of nursing school that is approved by the Pennsylvania Department of Education.
–    Have a Pennsylvania nurse aide registration that has lapsed.
–    Have a lapsed nurse aide certification that was issued by another state.
Test sites can be administered at a variety of locations including the American Red Cross, nursing facilities, vocational training schools, and at permanent testing sites. Call the American Red Cross at 800-795-2350 to find license exam test sites near you.
Candidates are given a two years after completing their training to pass both tests. If they fail, they are allowed to reapply and reschedule as soon as they get the results. When they retake the tests, they will only be required to retake the test that they failed. Each candidate is allowed to retake the exams up to three times within the two year period. If a candidate still fails to pass, then he or she will have to complete another CNA program. Those who pass both tests and have met all other criteria are added to the registry and eligible to work.
Nurse aide certification through reciprocity
A nurse aide who is already certified in another state may transfer his or her certification to immediately gain entry into the Pennsylvania-NAR. A CNA must have an active status and a good standing to qualify for reciprocity. Applicants should contact the state's Department of Health at (800) 852-0518 to get the complete requirements for reciprocity. The duration of the reciprocity process will vary depending on how fast a state's NAR can produce proof of the applicant's certification.
The city of Pittsburgh is the county seat of Allegheny County. It is considered as the 2nd biggest city in the U.S. Commonwealth of Pennsylvania. It is also known as City of Bridges, City of Champions, and Steel City. With a total population of 305,704 during the last census, it ranks as the 22nd largest urban area in the country. It has a population density of 5,636/sq miles. The total area of the city is approximately 58.3 sq miles, where 2.8 square miles of it is water.
There are quite a number of hospitals and health care centers in the city of Pittsburgh. Examples of the health care centers there include Alagar Medical Associates PC, Primary Care Health Services, Grane Healthcare, Baldwin Health Center, Tissueinformatics Inc., Velocity Health Care, Klingensmith Healthcare, University Dental Health Services, Chatwins Health Care, Staunton Clinic, Children's Institute of Pittsburgh, and many more. photo attribution: ufv