One can find the latest training in Perris, California to become a nursing assistant listed here. If you have any questions regarding their current requirements or enrollment procedures, you can call the number provided below.
Ember Care Health Center
2225 North Perris Blvd.,
Perris, CA 92571
(909) 657-2135
Becoming a nurse aide can be the best career move that you can make today. Training to become a nurse aide is considered to be one of the most practical ways to start a career in healthcare. The training is quick, challenging, and very much affordable. If you wish to become a nurse aide in California, then just follow these simple steps: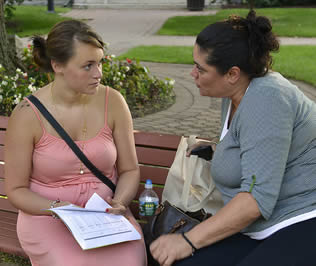 Step 1: Enrolling in a CDPH-approved CNA Training Course
CNA training courses will provide you with the necessary skills and knowledge you will use when you work as a nurse aide. The training consists of 150 hours, which are divided into 50 hours of lectures and 100 hours of supervised clinical training. You can now find training programs offered by different training institutions, both private and public.
Although each course has its own requirements for enrollment, you must be at least 18 years old to enroll in one. You will undergo physical exams and medical tests to determine that you are capable of handling different patients as well as free of any communicable diseases. You will also be fingerprinted and undergo federal and state background checks for criminal records.
Step 2: Applying For the Certification Exam
Most training courses in the state can be completed in 2-6 months, depending on the training course you enrolled in. Once you complete your training you will be allowed to apply for the certification exam. You can get an application packet from your instructor or by downloading it from www.pearsonvue.com or www.cdph.ca.gov.
Once you complete the necessary forms, please send it to your nearest Regional Testing Center. You can get the address from your Candidate Handbook (usually given by the instructor of the training course). Submit the application forms along with the payment of $90 for the testing fee. Payments must only be in the form of money orders, company checks, or cashier's checks.
Step 3: Taking the Certification Exam
On the day of your examination, please arrive at least 20 minutes before the actual scheduled time. Latecomers will not be permitted to enter the testing area once an exam has started. Remember that all payments are non-refundable and rescheduling on the exam day is not allowed.
If you wish to reschedule you must inform the Regional Testing Center at least 2 business days before your exam date. Each candidate is entitled to one free rescheduling. If you fail to inform the Registry before 2 days, you can still reschedule if you pay an additional cost of $25.
Step 4: Receiving Your CNA Certification
The results will be released immediately if there are no technical problems. Once the ATCS receives your name, they will send you your certification within 10 business days after you pass. If you do not receive your certification after 30 days, please call (916) 327-2445.
The city of Perris is situated within Riverside County. As of the latest census, their total population has now reached up to 68,386 people. This city was named after Fred T. Perris, who was a railroad chief engineer. It has a total area of 31.503 sq miles and a population density of 2,170.8/sq miles. Major highways that you can find along this city are Interstate 215 and State Route 74.
Back in 2006 the Valley Plaza Doctors Hospital, was the major hospital that served the city before it closed down. Other health care centers in the city include La Paz Medical Clinic, Healthpointe, Poom Medical Clinic, Perris Valley Physicians, Ember Care Health Center, Three Angels Medical Prof Corp, and Perris Family Care Center. photo attribution: westconn