Training to become a CNA in Orange, California can be accomplished by enrolliong in one of the schools listed here. Included on the page are health care center programs that you may enroll in as well as colleges, and vocational facilities. If you know of any nursing assistant programs that are not featured on this page, please send them to us for inclusion here.
Fountain Care Center
1835 West Laveta Avenue,
Orange, CA 92668
(714) 978-6800
Kindred Healthcare Center of Orange
920 West La Veta,
Orange, CA 92668
(714) 633-3568
New Orange Hills
5017 East Chapman Avenue,
Orange, CA 92869
(714) 997-7090
Chapman Medical Center
2601 Chapman Avenue,
Orange, CA 92869
(714) 633-0011
Healthbridge Children's Hospital
393 South Tustin Street,
Orange, CA 92866
(714) 289-2400
Becoming a nurse aide in California can be one of the best career choices you can make. Working as a nurse aide means that you will be under the watchful eyes of registered nurses. The nursing care that you provide will depend on what tasks are delegated by the nurses. Some people might think of this as working in the background and might get discouraged by this fact. You can rest assured that there are several advantages in becoming a nurse aide.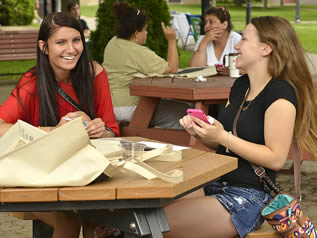 •    Job Stability
The demand for nurse aides in California is higher than the country's average. This demand is still on the rise and is believed to continue rising up until the end of the decade. There will always be ready work for new nurse aides.
•    Quick and Practical Way of Getting into the Field
All you need to work as a nurse aide in California is to get certified. The most common way of getting certified is to challenge the National Nurse Aide Assessment Program examination or the NNAAP exam. This exam consists of a written/oral knowledge test and a skills evaluation exam.
To be able to apply, you must first complete a state-approved training program. Training programs offer a minimum of 150 hours of training, which consist of 50 hours of lectures and 100 hours of supervised clinical training. Most programs take 2-6 months to complete, depending on which program you enroll in.
•    Great Stepping Stone for a Specialized Certification
There are specialized certifications that you can place on top of your CNA certification. Many of them are only available only to certified nurse aides. The training and experience that you receive as a nurse aide can also be a great stepping stone if you wish to aim for a higher degree.
•    Immediate Job Satisfaction
Nurse aides provide basic and routine care and assist the patients with their daily activities like bathing, dressing, eating, toileting, exercising, ambulating, and many more. Since you will be working closely with patients, you will immediately see the effect of your actions in the lives of your patients. If you genuinely love to take care of other people, this can be a very rewarding thing to see.
Orange is a part of Orange County. It is about 3 miles from Santa Ana, which is the county seat. The city of Orange surrounds a much smaller city called Villa Park. According to last year's census, they have at a total population of over 136,400 over an area of 25.240 sq miles, with a population density of 5,404.8/sq miles. This is the 6th most populous city in the county and ranks 41st in the entire state.
Several of the biggest employers in the city are involved in health care. These include UC Irvine Medical Center, St. Joseph Hospital, Children's Hospital of Orange County, and St. Joseph's Health System. photo attribution: westconn