CNA classes in Oakland, California including private health care facility programs, vocational schools, and public colleges are found on this page. For additional details about enrolling in a nursing assistant program, class schedules, the cost of tuition, or class curriculum, please contact one of the training facilities listed here.
Bellaken Career Center
2780 26th Ave.
Oakland, CA 94601
Phone: (510) 536-1838
Clinton Village Nursing Aide Training
1833 10th Avenue
Oakland, CA 94606
(510) 536-6512
CPR FOR LIFE TRAINING & HEALTHCARE ED.
8105 EGDEWATER DR STE 290
OAKLAND, CA 94621
(510) 533-1800
LIFELINE HEALTHCARE CONSULTANTS INC.
5709 MARKET ST.
OAKLAND, CA 94608
(510) 569-6079
MERRITT COLLEGE
12500 CAMPUS DRIVE
OAKLAND, CA 94619
(510) 531-4911
OAKLAND ADULT & CAREER EDUCATION
2607 MYRTLE ST.
OAKLAND, CA 94607
(510) 879-3036
Oikos University
7850 EDGEWATER DR.
OAKLAND, CA 94621
(510) 639-7557
QUEST NURSING EDUCATION CENTER
2135 BROADWAY STREET
OAKLAND, CA 94612
(510) 452-1444
If you plan to work as a healthcare professional in California, then you might want to think about becoming a certified nurse aide. The demand for nurse aides in this state is currently very high and is still increasing. Now would be the perfect time to take advantage of the opportunity and enter the field of health.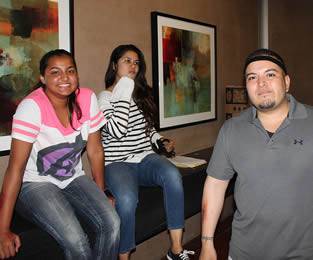 Since the state requires all aspiring nurse aides to get proper training, you will need to enroll yourself in a state-approved CNA program. Nursing assistant training in this state consists of 50 hours of lectures and 100 hours of supervised practical training. There are also some programs that offer more than the required 150 hours of training.
Examples of what you will learn in the training program:
•    Proper body mechanics
•    Human anatomy
•    Vital signs
•    Infection control
•    Mental health
•    Patient's rights and independence
•    Basic nursing care
•    Personal care
•    Death and dying
•    Weights and measurements
Applying for the NNAAP Exam
After completing your training, the next step is to submit the Initial Application Form to the ATCS. After the ATCS reviews your application, you can then submit your application form for the NNAAP exam to the Regional Testing Center. All applications must be complete before sending them. Incomplete applications are not processed.
Upon completion of your training you will also need to submit an application, school transcripts, background check, immunization records and associated fee to apply to take the certification exam.
Taking the NNAAP Exam
On the day of your exam, you must arrive at least 20 minutes before the start of any tests. Latecomers are no longer allowed to enter the testing area once an exam has started. You will also need to bring a valid ID and a copy of your SS card.
The NNAAP Exam
This is a two part examination that consists of a multiple-choice written/oral test and a clinical skills exam. Both tests are taken on the same day. Candidates must be able to pass these tests in order to gain entry into the Nurse Aide Registry. According to the law, only certified nurse aides whose names are on the NAR are allowed to work in a state-approved nursing facility.
The Nurse Aide Registry
Names on the NAR only remain for 2 years. Certified nurse aides must renew their certifications in order to keep their names on the Registry as well as retain their eligibility to work as a CNA. They must work for at least one day as a paid nursing aide and complete 48 hours of in-service training or continuing education to qualify for renewal.
The city of Oakland has a population of 390,724 as of the 2010 census report. The city resides in Alameda county and is the major West Coast port on the San Francisco Bay. It is known for being the transportation hub of the West Coast and is one of the most ethnically diverse cities in the U.S. photo attribution: codnewsroom