The classes to become a nursing assistant located in Novato, California are shown here. In the list are the available nursing home training, vocational schools, and colleges that meet state standards. If you know of any approved programs located in Novato that are not featured on this page, please contact us so we can add them here.
Country Villa Novato Healthcare Center
1565 Hill Road,
Novato, CA 94947
(415) 897-6161
If you are thinking of a way to start a career in healthcare then you should consider becoming a nursing aide. Becoming a nursing aide is one of the most practical means of entering the industry. Compared to other courses, training to become a nursing aide is quick, challenging, and affordable. The training and experience you will receive as a nursing aide can become a great stepping stone if you wish to aim for a higher degree.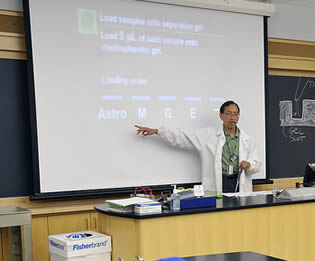 The first step in becoming a nursing aide is to attend and complete a state-approved nursing aide training course. Only enroll in a course that is approved by the state's Department of Public Health. This will ensure that your training will be proper and you will be allowed to apply for the certification exam afterwards. Because of the high demand for nursing aides you can now find training courses offered by different institutions and schools.
Approved courses offer no less than 150 hours of training. You will be spending the hours in classroom for lectures and in the clinical area for your practical training. Even as a student you will already experience what it is like to be a nursing aide. While in the clinical area students will be placed in the care of a clinical instructor and are not allowed to perform any procedure that has not yet been covered in the classroom.
The next step after training is to apply for the certification exam. This exam consists of a written/oral test and a skills evaluation exam. If you pass all the tests you will become a certified nursing aide. You can get an application packet from www.pearsonvue.com or www.cdph.ca.gov. Application forms must be complete and sent to your nearest Regional Testing Center.
Once the testing center receives your application they will send you information regarding your exam, such as your scheduled exam date.  Scheduling is a first-come-first-served basis, so if you are unavailable at your scheduled date you are allowed to reschedule once for free. To avoid additional charges, please inform the testing center at least 2 business days ahead of your exam date.
The results of the exams are released on the same day if there are not technical problems. The names of those who pass are forwarded to the Aide and Technician Certification Section. The ATCS will mail your CNA certificate. You can expect it within 10 business days after passing.
Novato is a city that is a part of the northern portion of Marin County. It can be found in the North Bay region of the San Francisco Bay Area. It is just a few miles northwest of San Rafael and approximately 34 miles from San Francisco itself. As of the latest census, they have a total population of 51,904. This city has a total area of 27.957 sq miles and a population density of 1,856.6/sq miles. A major portion of the economy here are the biotech companies that can be found here.
The health care sector is also flourishing with numerous health care providers and facilities. These include Novato Medical Clinic, North Bay Surgery Center, The Novato Wellness Center, Advanced Health Concepts, and Pfcpmc. photo attribution: westconn