The available CNA classes in Norwalk, California can be seen in this detailed list. If you know of other approved nursing assistant programs or nursing facility training that are in the city, send them to us so we can add them to the list.
Professional Career Development Center
12440 Firestone Blvd
Norwalk, CA 90650
(818) 523-2734
Franklin Career College
12440 Firestone Blvd.; #2000
Norwalk, CA 90650
(562) 651-1626
Getting a CNA license is one of the best ways to enter the medical field. There is a high demand for these workers in this state and the industry is expected to continue to grow for at least the next several years. A nurse aide can be defined as an individual who is trained to provide care to patients in different medical settings. Nurse aides work under the supervision of a licensed nurse and the medical team. The tasks that they do are mostly based on what tasks are delegated by the nurses.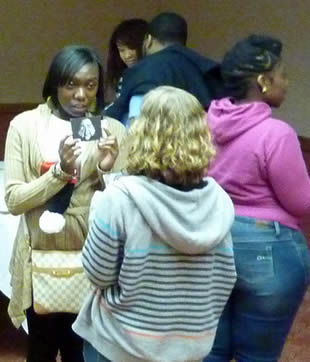 Nursing aides are tasked with assisting patients with different activities like eating, range of motion exercises, measuring vital signs, catheter care, toileting, bathing, cleaning their surrounding, and ambulation with the use of the different basic nursing skills. When they work, they will be working hand-in-hand with registered nurses.
If you are thinking about becoming a nurse aide, then it is important that you learn the needed skills and knowledge to meet the individual needs of each patient. To achieve this you will need to enroll in a state-approved CNA training program. A CNA program will teach you all that you need to perform the different roles and responsibilities of a competent nurse aide.
Nurse aide training programs in California take longer that most states to complete. They are required to offer a minimum of 150 hours of training. These hours are divided into 50 hours of classroom instructions and 100 hours of supervised clinical practice.
During your training, you will be taught in the fundamentals of nursing so that you can be well equipped for different situations. Before enrolling in any instruction you should always make sure they are Aide and Technician Certification Section (ATCS) approved. For more information you can call the Public Health Licensing & Certification program at (916) 552-8700.
Before you handle any patients, you must get fingerprinted and undergo the national background checks for criminal records. The background checks are done through the Live Scan Services for the purpose of protecting the patients. No student is allowed to go to the clinical area without submitting a copy of the completed Request for Live Scan Service. The forms for this are usually given by the program's instructors are the start of the class.
Depending on the program you choose to enroll in, it can take you somewhere from 2 to 6 months to complete a program. By completing an approved program, you will establish eligibility to apply for the state's certification exam. According to the OBRA of '87, only certified nurse aides are allowed to work in a state-approved nursing facility.
After you have completed a program you will want to find a testing location near you to take the license exams. The certification exam initially consists of a 70-item multiple-choice written test and a practical skills demonstration. You will have 2 hours to answer all questions in the written test and 25 minutes to perform all required nursing skills. If you have trouble reading English, you can ask to take an oral exam instead. Candidates will only get certified if they are able to pass both of the tests.
Each candidate is given 3 attempts to pass. The attempts are only valid within 2 years after completing the training program. If you fail to pass within that time or number of attempts, you will be required to complete another 150-hour training program before you can reapply once more.
Those who are successful are included on the nurse aide registry. Once listed you are eligible to find employment as a nursing assistant and your certification is valid for 24 months. To remain in good standing you will need to show work verification for each 2 year period. You can contact the CA Department of Public Health at (916) 327-2445 for the latest details about registry requirements.
Norwalk is a suburban city with a population of 105,549. This city is the 58th most populated city in the state of California. It ranks 225th in the entire nation. It can be located 12 miles northwest of Garden Grove. Its sister companies include Morelia, Hermosillo, Sonora, and Michoacan.
The top employers in the city include several centers from the health care industry. These centers/facilities are Metropolitan State Hospital, Coast Plaza Hospital, and the Los Angeles County Department of Public Health. Other health clinics in the area include Shine Healthcare, Emmanuel Health Care of Norwalk, Mother of Love Home Health Provider, RC Healthcare Registry, Villa Elena Healthcare Center, University Physicians, Nak Health Center, Maxim Healthcare Services, and Personal Care Medical Clinic. photo attribution: create-learning