Enrolling in certified nurse aide classes in Northridge, California is possible through the schools listed below.  Talk to a representative of the faculty to learn more. If you know of any nursing assistant programs being offered in this city, please contact us so we can include them on this page.
[There are no CNA Classes in Northridge, CA that are currently being offered or open for enrollment.]
The first step in becoming a CNA is to become a nursing assistant.  This means that you must attend a course and learn the skills and knowledge that is necessary to work as a nursing assistant.  Training courses in California take 150 hours to complete. The hours are divided into 50 hours of classroom lessons and 100 hours of supervised on-the-job training. There are some programs that will offer more than 150 hours of training.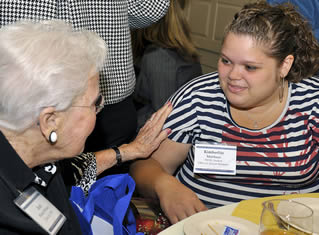 Every training program is required to cover the following concepts:
•    Patient's Rights
•    Communication and Interpersonal Skills
•    Safety Precautions
•    Proper Body Mechanics
•    Medical and Surgical Asepsis
•    Basic Nursing Care Procedures
•    Vital Signs
•    Patient Care Skills
•    Long-term Care Patients
•    Rehabilitative Nursing
•    Observation and Proper Documentation
•    Nutrition
•    Death and Dying
Upon finishing the training course the students will become eligible to apply for the certification exam. According to the OBRA of '87 all aspiring nursing assistants must be properly certified before working in a long-term care center or a state-approved nursing facility.  The certification exam in California is handled by Pearson VUE.  You can visit their website at www.pearsonvue.com to download the application packets.
The certification exam is divided into a knowledge exam and a skills evaluation. The knowledge exam is normally given as a written test but candidates who have trouble reading English can request to take an oral test instead. The request must be made upon application. Requests made during the exam date will not be accommodated. There is an additional charge of $15 for those who chose to take the oral test.
Payments must be in the form or money orders or company checks. Cash or personal checks will not be accepted. All payments are non-refundable and must be made payable to your nearest Regional Testing Center. All payments must be submitted along with the application forms.
Candidates who pass all the tests will receive their CNA certificate from the Aide and Technician Certification within 10 business days after passing. The certificate is made up of special stock paper that has several security features to ensure its authenticity. If you fail to receive yours within 30 days after passing, please call the ATCS at (916) 327- 2445.
This is a community which is under the City of Los Angeles. It is situated in the San Fernando Valley region. According to the latest census, they have a total population of approximately 68,469. Their zip code is 91324. It has a total area of 17 square miles. Its neighborhood includes Granada Hills, Chatsworth, North Hills, Reseda, Winnetka, and Porter Ranch.
The major hospital serving the community is the Northridge Hospital Medical Center. Other health care facilities in the area include HealthCare Partners Medical Group, Alzheimer's Association, Northridge Neurological Medical Group Inc., Medicus Research, New Start Home Health Care, Family Health Center Chiropractic, Alternative Medical Clinic, and Kidney Dialysis Center of Northridge. photo attribution: westconn