CNA Classes in Newport News, Virginia are all shown to you in the list below. Included in the list are the nursing assistant training programs that are currently being offered there. Contact one of the training facilities on this list below for more information about signing up for instruction, the cost of tuition, and class schedules.
Riverside Lifelong Health and Aging Related Services
1000 Old Denbigh Blvd.
Newport News, VA 23602
(757) 875-2050
(Multiple classes are available)
Amour Home Care, Inc.
3114 Chestnut Ave.
Newport News, VA 23607
(757) 245- 5100
Health Education, Inc.
3112 Chestnut Ave.
Newport News, VA 23607
Health Service and Education
12388 Warwick Blvd Ste 204
Newport News VA 23606
757-869-5604
Riverside School of Health Careers
316 Main Street,
Newport News, VA 23601
(757) 240-2200
Before one can start working as a nursing aide, one must first comply with the federal and state's different requirements. This involves completing an approved CNA training program, passing the criminal background checks, and challenging the NNAAP exam.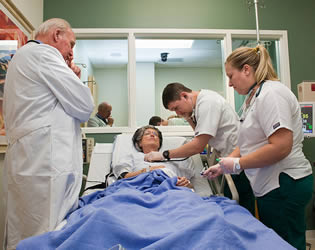 CNA Training programs
You won't have trouble looking for a program to enroll in if you're in Virginia. There are various healthcare institutions, training facilities, and schools that offer state-approved training. You can find them being offered by:
–    Hospitals
–    Nursing Homes
–    Community Colleges
–    Assisted Living Centers
–    Vocational Schools
–    The Red Cross
–    Technical Colleges
–    Rehabilitation Centers
–    High Schools
–    Government Organizations
–    Websites
A lot of these facilities offer multiple-classes, which makes it a lot easier for aspiring nursing aides who have day jobs. If you have some monetary problems, there are also a lot of the facilities that offer certain scholarships or have very cheap tuition; some might even offer free training.
Criminal Background Checks
The criminal background checks with fingerprinting are done at federal and state levels. Candidates need to undergo the checks before they handle any patient. There are even some training institutions that require them to pass the checks before they can be accepted. No student is allowed to handle a patient if he isn't able to pass these checks.
The NNAAP Exam
Completing an approved CNA program is a requirement to apply for the NNAAP exam. Nursing students and graduates are also allowed to take the exam if they wish to pursue a career as nursing aides. Actually, there are different ways for a person to qualify for the exam. To qualify, you just have to meet any of the following conditions:
–    Pass a state-approved 75-hour program
–    Perform at least 40 hours of nursing services while enrolled in a nursing school as a nursing student
–    Graduate from a Nursing Education Program
–    Have a certificate that's expired for no more than a year.
This is an independent city that you can find situated in the Hampton Roads metropolitan area. Newport is the county seat of Warwick County. According to the latest census, their total population was around 180,719 people. It has a total area of 119.1 sq miles, and has a population density of 2,683/sq mile.
Health care providers that you can find in the area include DDC- DNA Diagnostics Center, G & G Treatment Center, Nurse Advantage, First Call Home Health Care, Home Helpers and Direct Link, Rite Aid, Hidenwood Pharmacy, Denbigh Pharmacy, and many more. photo attribution: codnewsroom