The CNA classes in Newbury Park, California that you may enter for enrollment are all listed on this page. Schools will teach the basics of working in a health care facility and offer theoretical lessons and skills practice in a medical environment.
Mary Health of the Sick Convalescent Center
2929 Theresa Drive,
Newbury Park, California 91320
(805) 498-3644
To work as a nursing aide in California you have to be certified by the Certification and Licensing Program specifically its Aide and Technician Certification Section. The requirements and certification process in California are similar to other states.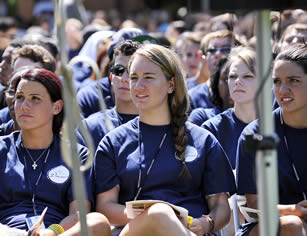 Requirements for CNA Certification:
•    Be at least 18 years old
•    Be physically and mentally capable of taking care of patients
•    Have a clean criminal record and pass the national criminal background checks
•    Complete a CDPH-approved training program.
•    Pass the National Nurse Aide Assessment Program exam
CNA training programs in California are required to offer 150 hours of training. The training hours are divided into 50 hours of lectures and 100 hours of clinical practice. Training programs will provide nursing aide candidates the skills and knowledge they will need to meet the individual needs of each patient. The students will be handled by a qualified clinical instructor. Each instructor is only allowed to handle a maximum of 15 students per class. This is to maximize the potential for learning.
Before students proceed to the clinical area, they must first undergo the background checks with fingerprinting. The CDPH has required the training institutions to pay for the Live Scan Services. A copy of each student's completed Request for Live Scan Services forms must be sent to the ATCS prior to the start of the clinical rotation.
The NNAAP exam was created to determine a candidate's competency to work as a nursing aide. This exam consists of a multiple-choice written (oral) exam and a practical skill test. If you pass both parts of the exam you will get certified by the ATCS.
Nursing students and graduates who wish to work as nursing aides can directly apply for the NNAAP exam without any need for additional training. Before applying, they must first contact the CDPH at (916) 327-2445 to determine their eligibility.
California is very welcoming when it comes to nursing aides. Certified nursing aides from other states who wish to work in California can transfer their certification by applying for reciprocity. If the applicants get approved, they will immediately get certified by the ATCS. Applicants must have a current certification and a clean record to be eligible for reciprocity.
This community is a part of Ventura County which is in the Conejos Valley. You can find it on the western side of the city of Thousand Oaks. It is also under Greater Los Angeles. It once ranked as the 11th highest per capita income in all cities with more than 50,000 people. This place was named after Egbert Starr Newbury, who once owned a huge portion of land in the valley. The economy of the community focuses around industrial as well as others like health care and computers.
Examples of health care facilities that you can avail in the area include Baxter Healthcare Corp, Conejo Childrens Medical Group, Planned Parenthood, Physician Partners, California Spine Institute Med Center Inc., The Healthcare Roundtable, Clinicas Del Camino Real, and Regal Medical Group. photo attribution: westconn