CNA Classes in Moraga, California are listed for you on this page. If you have any questions about their nursing assistant classes, enrollment times, or class tuition fees, just call the number provided or go to their office during working hours.
Rheem Valley Convalescent Hospital
348 Rheem Blvd.,
Moraga, CA 94556
(510) 376-5995
There are different routes that you can follow to become a nursing aide in California. You can complete a state-approved CNA training program, a nurse education program, or get military education as a medic or corpsman. Completing any of those mentioned will establish your eligibility to apply for the NNAAP exams.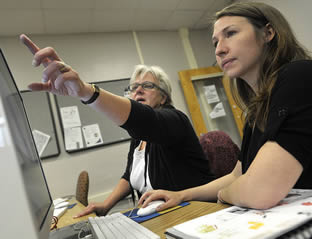 The NNAAP exam or the National Nurse Aide Assessment Program examination was created to test the competency of an aspiring nursing aide candidate in terms of skills and knowledge. This exam consists of a written/oral test and a practical skills evaluation. Those who will pass all the tests will get their names entered into the Nurse Aide Registry. A nursing aide can only work long-term if his name is in the NAR.
A failed test means a failed NNAAP exam. This means that the candidate will have to reapply for the exam and retake the test that he failed in. Each candidate is only allowed to do this up to 3 times. If you fail your third attempt, you will no longer be allowed to reapply unless you complete a 150-hour CNA program.
Another way of becoming a CNA in California is by applying for reciprocity. This process is only for individuals who are already certified as a nursing aide. It is important that the applicant has an active certification and was able to maintain a good relationship with his state. To protect the interest of the patients, they must also pass the background checks for criminal records, which are done at both federal and state levels.
CNA certifications are only valid for 24 months. Every certified nursing aide must renew his certification before it expires. The ATCS will send you a notice at least 4 months prior to your certification's expiration. If you fail to renew your certification, it will expire and you will lose your eligibility to work as a nursing aide. You can however, reactivate your certification by taking a competency exam. You can only take the competency exam if your certification has not expired for more than 2 years.
This city is found in Contra Costa County. It is also a part of the San Francisco Bay Area. This city was named after Joaquin Moraga. Back in 2000 this city was ranked as the 79th wealthiest place in the country that has a population over 10,000 people. As of last year's census, their total population has now reached up to 16,016 people. They have a total area of 9.442 sq miles. Nearby cities include Orinda, Oakland, San Francisco, Concord, Walnut Creek, and Berkeley.
Health care providers in the city include Aegis Living (925) 377-7900, Healthcare Frontier (925) 377-1036, Awakening Mineral Therapies, and Goclear Llc 925-376-7229‎. photo attribution: westconn