The classes in Los Gatos, California that teach student show to become certified as a nursing assistant can be found here. Included in the list are the available colleges, vocational schools, and health care providers that are being offered in the city. Call the facility to find out how to join their programs.
Los Gatos Oaks Convalescent Hospital
16605 Lark Avenue,
Los Gatos, CA 95032
(408) 356-9146
Los Gatos Meadows
110 Wood Road,
Los Gatos, CA 95030
(408) 354-0242
Oak Meadows Extended Care Center
350 De Soto Drive,
Los Gatos, CA 95030
(408) 356-9151
Terraces of Los Gatos
800 Blossom Hill Road,
Los Gatos, CA 95032
(408) 356-1006
Vasona Creek Healthcare Center
16412 Los Gatos Blvd.,
Los Gatos, CA 95032
(408) 356-2191
A CNA certification is a requirement to work as a nurse aide in California. To get a certification issued by the state's Aide and Technician Certification Section you must undergo proper training in a CDPH-approved program and pass the state certification exam.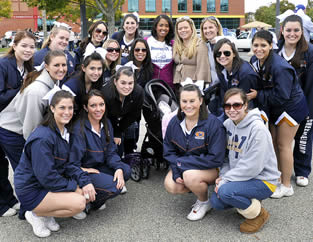 Approved programs are required to offer no less than 150 hours of training. These hours are higher than most states. 50 of the hours are allotted for classroom lectures while the remaining 100 are for supervised clinical practice. Students will spend the first 16 hours learning the following concepts before handling any patient:
•    Communication and interpersonal skills
•    Medical and surgical asepsis
•    Safety and emergency procedures
•    Respecting patient rights
•    Promoting patient independence
A strict background check is also required prior to the start of the clinical training. Those who do not undergo fingerprinting and the background checks will not be allowed to go to the clinical area. The ATCS requires every training program to submit each student's completed Request for Live Scan Services. The ATCS also requires that the Live Scan must be paid by the training facility.
By completing an approved training program, you will become eligible to apply for the certification exam. The certification exam consists of a multiple-choice knowledge test and a skills evaluation exam. Candidates who have trouble reading English can request to have an oral exam instead. The request must be made upon application. Request for additional accommodations for certain disabilities must also be made during this time.
Application forms must be sent to your local Regional Testing Center. You can get an application packet from your instructor or by going to www.pearsonvue.com or www.cdph.com. You can also download the Candidate Handbook, which contains information about the exams. All applications must be complete. Incomplete applications will not be processed.
CNA certifications in California are only valid for 2 years. Holders must renew their certifications if they wish to maintain their eligibility to work in a nursing facility. Notices are sent out by the ATCS at least 4 months before the certification's expiration. A nursing assistant is not allowed to continue working with an expired certification.
Los Gatos is a town that is located in Santa Clara County. It is also situated in the San Francisco Bay area. It is just southwest of San Jose which is in the foothills of the Santa Cruz Mountains. According to the 2010 census, their population is about 29,413 people and with a population density of 2,635.6/sq miles. This town has a total area of 11.160 sq miles, where less than 1% of it is water.
Health care centers and providers that you can find within the city include PlaneTree Health Information, O B-Gyn Women Physicians Assoc Inc., Polizzi Chris S Psyd, Medical Associates Infusion Center, B M A Dialysis, A Sante Health Center, and Vasona Creek Healthcare. photo attribution: westconn