The CNA classes in Long Beach, California are listed in detail below. You can see phone numbers, and addresses, and some details about their programs. If you need further information, just contact the phone number provided.
Long Beach School For Adults
3701 East Willow Street
Long Beach, CA 90815
(562) 595-8893
Preferred College Of Nursing
1950 East 220th St. Suite 101
Long Beach, CA 90810
(310) 952-1005
Red Cross
Greater Long Beach Chapter
3150 E. 29th Street
Long Beach , CA 90806
Phone: (562) 595-6341
The first step in becoming a nursing aide is enrolling in a CNA training program. Programs approved by the CDPH offer a minimum of 150 hours of training. The hours are divided into 50 hours of theory and lab work and 100 hours of on-the-job training. These programs are offered through hospitals, nursing facilities, community colleges, private training institutions, and many more.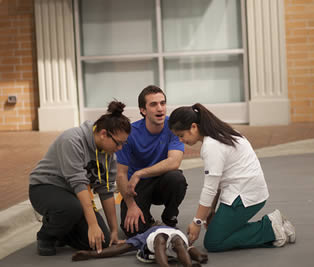 Students are taught basic nursing care as well as other related concepts. They will learn how to take vital signs, weights and measurements, document properly, as well as help in the patients' daily activities such as bathing, dressing, toileting, eating, exercising, ambulating, and other activities that they can't do on their own.
Once you complete your training you can now submit your Initial Application form (http://www.asisvcs.com/publications/pdf/070503.pdf) to the ATCS at:
California Department of Public Health
License and Certification Program
Aide and Technician Certification Section
MS 3301
P.O. Box 997416
Sacramento, California 95899-7416
Fax: (916) 552-8785
Email: cna@cdpha.ca.gov
The ATCS will then review your application once they receive it. If they approve your application you will then be able to submit your application form for the NNAAP exam to the Regional Testing Center in your Area. Your application must come with the payment of $90 for the testing fee or $105 if you request to take an oral exam. Payments must only be in the form of a money order or a cashier's check.
Northern Region (from Oregon to Kern County)
Mission College
3000 Mission College Bvld MS #19
Santa Clara, California 95054
Fax: (408) 855-5213
Website: www.missioncollege.org/depts/HWI/regional_testing.html
Southern Region (from Oxnard to the Mexican Border)
Golden West College
15744 Golden West Street
Forum I, Room 112A
Huntington Beach, CA 92647
Fax: (714) 895-8994
Website: www.regionaltestigncenter.org
The NNAAP exam is a two part examination that consists of a multiple-choice written/oral test and a skills evaluation exam. Both tests are taken on the same day, so please plan accordingly. Candidates are given 2 hours for the knowledge test and 25 minutes for the skills evaluation. Candidates must pass both tests to get a CNA certification.
This city can be located in L.A. County in the southern part of California. It ranks seventh as the biggest in the entire state and 36th in the entire nation. The latest census that was done last year showed that its population has now reached up to 462,257.
Health care businesses that are considered as top employers include St. Mary Medical Center, Veterans Affairs Medical Center, and Long Beach Memorial Medical Center. Each of these centers has over a thousand employees. As of 2010 Long Beach Memorial Medical Center has about 5000 workers. Health care centers in the area include General Medical Clinic, National Medical Group, Rehab Practice Management, Memorial Medical Group Inc., Long Beach Therapeutic Nursery, Loram Manor, and Caremore Medical Group. photo attribution: codnewsroom