One can find schools in Hemet, California that provide CNA classes provided for you on this page. Those who complete the program are granted the ability to schedule a test date to receive their certification. For more information about their program, class schedules, tuition costs, or requirements to take the exam, just call the number provided.
Cloverleaf Healthcare Center
275 North San Jacinto Street,
Hemet, CA 92343
(909) 658-9441
Devonshire Care Center
1350 East Devonshire,
Hemet, CA 92544
(909) 925-2571
Meadowbrook Convalescent
461 East Johnson Avenue,
Hemet, CA 92343
(909) 658-6374
Manorcare Health Services
1717 West Stetson Avenue,
Hemet, CA 92545
(909) 925-9171
Village Health Care Center
2400 West Acacia,
Hemet, CA 92543
(714) 766-5116
According to the U.S. Bureau of Labor Statistics, the demand for CNAs in California is higher than the country's average. This growth in demand is believed to continue to grow up until the end of the decade. If you want to start a career as a nursing aide, then this is the perfect time for you to achieve that dream.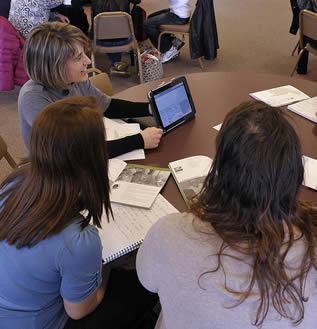 The requirements to work in California are generally the same as most states. Before you can work as one, you must first receive the proper education and training from programs that are approved by the state's Department of Public Health. There are several different institutions that are certified to offer such training such as nursing homes, vocational and technical colleges, community colleges, hospitals, and many more.
Approved programs are headed by registered nurses with a minimum of 2 years of nursing experience and were able to complete 24 hours of continuing education about planning, implementing, and reviewing of nursing programs. These programs consist of 50 hours of classroom teaching and 100 hours of supervised clinical practice. The training will provide information regarding topics like basic nursing skills and procedures, personal care, nutrition, infection control, and emergency procedures.
Your training will only be valid for 2 years. You must apply for the NNAAP exams and pass within that time. A failure in at least one part of the exam means a failed NNAAP exam. You can reapply and reschedule to take the test that you failed in. You can only do this up to two times. If you fail for the third time, you will be required to complete another NATP before you can reapply once more.
People with different educational attainments can become a nursing aide. Because of such high demands for CNAs registered nurses, LPNs, nursing students/graduates, and military-trained medics also want to become a nursing aide and are applying to take the NNAAP exam. Before they submit their application forms, they must provide show proof of their education and training such as their diplomas or transcript or records to the ATCS.
CNAs are required to renew their certification every 2 years. To do so they will have to complete the renewal form (http://www.asisvcs.com/publications/pdf/070512.pdf), and submit it along with proof of employment and completion of 48 hours of in-service/continuing education. Failure to renew one's certification will result in the loss of eligibility to work as a CNA.
Hemet is a city that is a part of Riverside County. It is found in the San Jacinto Valley. The city is around 27.847 sq miles which covers almost half of the entire valley. The city of San Jacinto is one of their neighboring cities. The total population of the city is around 78,657 people. It has a population density of 2,824.6/sq miles.
Valley Health System, ManorCare Health Services and Ramona VNA & Hospice are three of the biggest employers in the city. Other health care facililties that you can find in the city include Odyssey Healthcare, Addus Healthcare, Hemet Community Medical Group, Caring Companions Home Health Services, Monte Vista Medical Laboratories, Addus Healthcare, and Hemet Family Care Center. photo attribution: westconn