Those looking to enroll in nurse aide training in Healdsburg, California can find the recent schools shown to you below. If you know of any programs that are available in the city of Healdsburg, please contact us so we can add them to this page.
Healdsburg District Hospital
1375 University Avenue,
Healdsburg, California 95448
(707) 431-6500
If a person wants to work in California as a nurse aide it is important that he should know what the requirements are to get certified. According to the Nursing Home Reform Act, all aspiring nurse aide candidates must be properly trained and certified before working in a state-approved nursing facility. Getting certified as a nurse aide will open great opportunities for those who are choosing this line of work.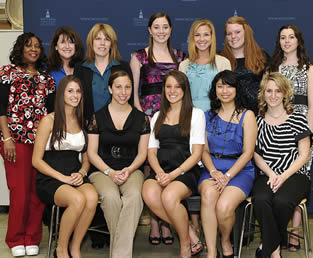 Requiring nurse aide candidates to complete a certified training program will ensure that newly certified nurse aides in the state will know how to meet the needs of each patient. That is why the first step in becoming a nurse aide is to attend in a CDPH-certified NATP. Approved program curriculums consist of 150 hours of theories and supervised clinical practice. Students will learn about different nursing concepts such as infection control, mental health, aging process, vital signs, nutrition, therapeutic communication, and many more.
Once a nurse aide candidate completes his training, he can then proceed and apply for the NNAAP examination. This examination was designed to test candidates in terms of skills and knowledge. If they pass both parts of the exam (knowledge test and clinical skills test) they will get certified by the Aide and Technician Certification Section of the L&C Program. To know more about the NNAAP exam, please download a copy of the Candidate Handbook at http://www.asisvcs.com/publications/pdf/070500.pdf.
Unlike other states, California-issued CNA certificates are only valid for 2 years. A nurse aide must renew his certificate in order to maintain his eligibility to work. No certified nurse aide is allowed to continue working once his or her certificate has expired. To renew, nurse aides must provide proof of employment for at least 8 hours while under the supervision of a licensed nurse, and complete 48 hours of continuing education.
The ATCS sends out notices and forms at least 4 months before a nurse aide's certificate expires. To avoid any problems receiving the forms, CNAs must inform the ATCS if they changed their name or address. The forms can also be downloaded by going to this link: http://www.asisvcs.com/publications/pdf/070512.pdf. The file also contains further information regarding the renewal process.
Healdsburg is a city that is situated in Sonoma County. According to last year's census, they have a total population of 11,254. It is one of the wine capitals in the region. The total area of the city is 4.464 sq miles. The population density of the city is also estimated to be 2,521.1/sq miles.
There are many health care providers that you can see and go to in the city. Examples of these health care providers include Alliance Medical Center (707) 433-5494, Healdsburg Community Nursery School (707) 433-1817, and North Bay Eye Associates (707) 433-9475. photo attribution: westconn