Students interested in signing-up for certified nurse aide training in the town of Grand Terrace, California can find the latest offerings provided for you on this page. For more details about class starting dates, program tuition fees, and requirements of the certification, please contact the number below.
Grand Terrace Care Center
12000 Mount Vernon Avenue,
Grand Terrace, California 92313
(909) 825-5221
Starting a career in health care is exciting and rewarding. More and more people are training to become a certified nurse aide or a home health aide, as the demand for this profession continues to rise. Before you can work as a nurse aide or home health aide, you must get certified by the Aide and Technician Certification Section. The certification process will require you to complete a CDPH-approved training course and challenge the certification examination.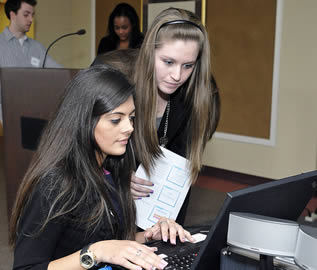 Approved CNA programs are required to offer no less than 150 hours of training while HHA programs can offer 120 or 40 hours of training. Both program curriculum is divided into lectures and supervised clinical practice. Students are placed in the care of qualified clinical instructors, which are registered nurses with sufficient nursing experience and a background on instructing adults.
For those who wish to get ahead of the competition, they enroll in both CNA and HHA training programs at the same time. Those who are pursuing this way are only required to enroll in a 40-hour HHA training program to act as supplemental training. These hours will be divided equally into lectures and supervised clinical practice.
After completing the training, the next step is to apply for the certification examination, which is conducted by Pearson VUE. You can get an application packet from your instructor or download one from www.pearsonvue.com. You can also apply online at the same site. All applications must be complete, including the payment fee, and be submitted to the appropriate Regional Testing Center.
You can send them to:
North Region
Mission College
3000 Mission College Blvd MS 19
Santa Clara, California 95054
Fax: (408) 855-5213
Or
South Region
Regional Testing Center
Golden West College
15744 Golden West College
Library 16
Huntington Beach, California 92647
Fax: (714) 895-8994
The certification examination will be composed of a written or oral knowledge test and a skills evaluation exam. Candidates are required to pass both parts of the examination in order to get certified. Once you are certified you will be allowed to work as a CNA for 2 years and an HHA for four. If you want to continue working as either of them, you must renew your certification before it expires.
The city is situated in San Bernardino County. According to the latest census, which was done last year, they now have a total population of about 12,040 people. You can find this city in between the cities of Riverside and San Bernardino itself. It is also situated in between two mountain ridges which are the Blue Mountain and the La Loma Hills. This city has a total area of 3.502 sq miles where all of it is land.
Examples of health care centers that you can avail within the city include Impression Healthcare Services Inc. (909) 514-1505, Buckeye Medical (909) 370-3187, Valley Insurance & Physicians Services (909) 426-4770, and North American Healthcare (909) 825-5221. photo attribution: westconn