CNA classes in Glendale, California are listed below. If you have any inquiries about their program such as schedules, tuitions, or other matters, just contact the phone number provided in the list.
AMHS
730 s. Central Ave. Suite 208
Glendale, CA91204
(818) 637-7871
St. Jude Healthcare Ed.
335 North Brand blvd # 270
Glendale, CA 91203
(818) 548-2673
(Multiple classes are available here)
S & S Health Education Center
1341-b East Colorado St.
Glendale, CA 91205
(818) 241-5255
There are different routes that you can take to become a certified nurse aide. You can complete a state-approved CNA program, a nursing education program, a military education program, or any other program that offers similar training so long as it is approved by the state.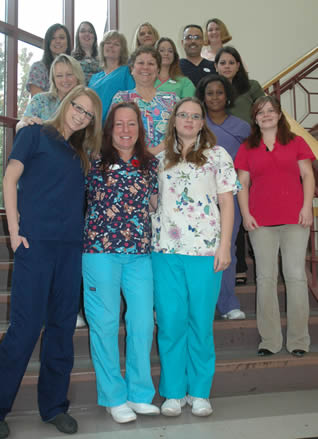 Because of the increase in demand of nursing assistants there are now many different institutions that offer this type of training. These institutions include colleges, health care centers, vocational training centers, as well as high schools. These programs are required by the state to accept people with different types of educational backgrounds. You can enroll in the programs if you only have a high school diploma, or GED, and pass the state and federal background screening, and physical exam.
Once you enroll, you will spend your hours in both lectures and skills training. The state requires that the programs offer at least 75 hours of classes and 16 hours of training. Most of the programs will take you 6-8 weeks to complete. You must meet these hours to complete the program and get actual hands-on practice with common health care skills. You will be applying the skills you learn in the clinical area while under the supervision of a trained member of the healthcare team. You will not be allowed to perform any procedures that were not taken up in the classroom.
CNA training programs in California take longer to complete than most states. The programs are required by the CDPH to provide a minimum of 150 hours of training. Like any other program, their curriculum consists of theoretical lessons and practical training in the clinical area. Programs in the state are also required to teach 16 modules that would cover, but are not limited to, the following concepts:
•    Patient's Rights
•    Vital Signs
•    Interpersonal Skills
•    Safety and Emergency Protocols
•    Medical and Surgical Asepsis
•    Body Mechanics
•    Patient Care Skills
•    Personal Care Skills
•    Long-term Patient Care
•    Rehabilitative Nursing
•    Observing and Proper Documentation
•    Weights and Measurements
•    Death and Dying
Completing an approved CNA program will make you eligible to apply for the National Nurse Aide Assessment Program exam. If you completed a similar educational or training program, please call the California Department of Public Health at (916) 327-2445 to determine your eligibility to apply for the NNAAP exams.
You must have the authorization of the state to take the exams. Aside from submitting proof of your training, you will be asked to give them your immunization records, ID photos, the results of the background checks, the complete application form, as well as pass the payment fees for the examination.
The NNAAP exam is conducted by Pearson VUE at approved Regional Testing Centers. The exam initially consists of a multiple-choice written knowledge test and a clinical skills evaluation. However, an oral exam may be taken instead of the written test if a candidate has difficulty in reading English. If you do not know what type of exam to take, please go to www.pearsonvue.com and take the self-assessment Reading exam. You can also get a sample knowledge test at the link provided.
You will only get certified if you pass both exams. If you fail in one part of the exam, you are given another 2 attempts to pass. You are only required to retake the test that you failed. These attempts are only valid within 2 years after completing your training. If you do not pass the exam before that time, you will have to retrain before you can reapply once more.
CNA certifications are only valid for 24 months. You must renew your certification if you wish to maintain your eligibility to work as a certified nurse aide. To be eligible for renewal you must work, for compensation, as a nurse aide as well as complete 48 hours of in-service training or continuing education. For more information, please follow this link: http://www.cdph.ca.gov/certlic/occupations/Documents/How-to-Renew-Your-Cert.pdf.
Glendale is a city that has a population of 191,719. It is still part of the Los Angeles County and lies in the eastern end of San Fernando Valley. It is also a suburb of the Greater L.A. area. Neighboring cities and places include La Cañada Flintridge, Burbank , Griffith Park, and  Eagle Rock.
There are a variety of clinics that could be found within the city. These clinics and centers include All American Health Care Center, National Union of Healthcare W, PC Medical Clinic Inc., Care Fertility, Vmh Care, Glendale Podatric Medical Group, American Care Home Health Services Inc., Vicwest Medical Clinic, Foothill Cardiology, Mobil Care Diagnostic Inc., Glen-Park West Retirement Community, and Glencrest Health Center Inc. photo attribution: ufv