The active CNA classes in Fresno, California are listed below.  Included in the list are different facilities, programs, as well as different schools that are either facility based or non-facility based.  You can contact the number to get more information about getting nursing assistant certification.
Golden Living Training Center Fresno
550 West Alluvial Ave
Fresno, CA 93711
(559) 430-3901
Duncan Polytechnical HS -Medical/Nursing Careers
4330 East Garland
Fresno, CA 93726
(209) 497-3851
Fresno Golden Living Training Center Fresno West
550 WEST ALLUVIAL
Fresno, CA 93711
(559) 255-9401
Adult school
2500 Stanislaus
Fresno, CA 93721
(559) 457-6000
Casa Metropolitan Training Center
3034 E, HERNDON AVE,
Fresno, CA 93720
(209) 283-0883
Golden Living Training Center Kerman
2984 NORTH MAROA
Fresno, CA 93704
(559) 256-9401
Fresno Adult School-Hope Manor
2500 STANISLAUS
Fresno, CA 93721
(559) 457-6000
Fresno Adult School San Joaquin Gardens
2500 STANISLAUS
Fresno, CA 93721
(559) 457-6000
CENTRAL LEARNING ADULT SCHOOL SITE
2698 N. BRAWLEY AVE
Fresno, CA 93722
(559) 276-5230
Central Learning Adult School Site
2698 N. BRAWLEY AVE
Fresno, CA 93722
(559) 276-5230
Central Unified School District
3535 NORTH CORNELIA
Fresno, CA 93722
(559) 276-0280
The best ways to start a career in healthcare is to become either a nursing aide or a home health aide. These two are entry-level professions which make them easier and a lot faster to achieve than other careers such as nursing.  Though, the experience you gain from either of them can be a great stepping stone if you ever want to aim for something much higher.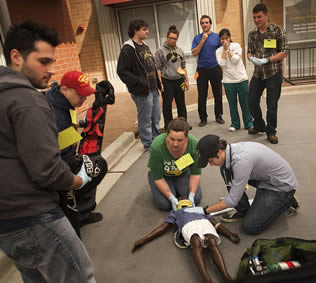 What it takes to be a CNA in California?
You can only work as a nursing aide if you have a CNA certification. Each state has its own requirements for the certification process. Here are the general requirements to become certified in this state:
•    Successfully complete a state-approved program
•    Pass the national criminal background checks through Live Scan Services
•    Submit the Initial Application Forms to the CDPH
•    Submit the application forms for the NNAAP exam to the Regional Testing Center in your area
•    Take and pass the National Nurse Aide Assessment Program Examination
CNA Training Programs
Nursing assistant programs in this state take 150 hours to complete. All programs consist of a minimum of 50 hours of theory/lab work and 100 hours of supervised clinical practice. Each program is headed by an instructor with at least 2 years of nursing experience and had completed 24 hours of continuing education on planning, implementing, and evaluating nursing programs.
The following are examples of the topics that are taught in every program:
•    Patient's Rights
•    Communication Skills
•    Body Mechanics
•    Vital Signs
•    Weights and Measurements
•    Safety Precautions
•    Emergency Protocol
•    Death and Dying
•    Nutrition
•    Long-term Patient Care
•    Basic Nursing Procedures
•    Personal Care
How to Maximize Your Training Time
The state of California allows you to enroll in a CNA program and a HHA program at the same time. Since you are already enrolling in a CNA program, you will only be required to enroll in a 40-hour HHA program instead of the 120-hour program. The 40 hours are divided equally into both lectures and practical training. Your HHA training will complement your nurse aide training.
Other ways to get a nurse aide certification in California
You can also get a certification by applying for reciprocity. Unfortunately, this process is only offered to certified nurse aides from other states. They can transfer their certification and work in California without the need for further training. The applicant must have a current certification and a clean record to qualify. Applicants must not be on the Abuse Registry.
Fresno is the county seat of Fresno County. As of last year's census, the population of the city has already reached around 510,365 people. The city is now considered as the 5th largest city in CA and ranks 34th in the entire nation. It is located in San Joaquin Valley and is between the cities of Los Angeles and Sacramento.
The number one employer for the city is Central Medical Center which has an estimated 6,000 employees.  Another major employer in the city is the Saint Agnes Medical Center which has more than 2,000 employees. The Saint Agnes Medical Center is currently the 4th major employer in the entire city. photo attribution: codnewsroom