If you reside in Fowler, California and would like information on the latest certified nurse aide classes you can find them posted on this page. Those who are accepted to the program and complete the required hours of instruction are eligible to take the exams. For any sort of inquiries about their programs, or questions regarding tuition costs, CNA testing exam, or class schedules, just contact the number provided.
Alice Manor
8448 East Adams,
Fowler, California 93625
(209) 834-2570
Beverly Living Center
1306 East Sumner Avenue,
Fowler, CA 93625
(209) 834-2542
The Nursing Home Reform Act aims to improve the quality of care that patients in different health care settings receive, especially from nursing assistants. To meet this goal, all persons who wish to work as a nursing assistant must undergo proper training.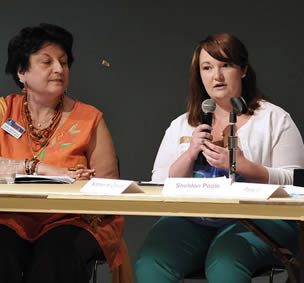 The best way to learn about how to function as a nursing assistant is to enroll in a state-approved CNA training course. The Department of Public Health is the one in charge of certifying and monitoring programs in California. They require their programs to teach 16 different modules and offer 150 hours of training. These hours must be divided into 50 hours for lectures and 100 hours of practical training. An institution's program must also be handled by a qualified CNA instructor.
Once you are through with your training, the next step is to determine if you meet the standards of a nursing assistant by challenging the state's certification exam. This exam is divided into two parts. You will be tested based on the knowledge and skills that are taught in approved programs. If you pass both parts you will be given a nursing assistant certificate, which you can use as proof when you apply for employment.
Completing a CNA course is not the only way to become eligible for the exams. An individual who is a registered nurse, licensed vocational nurse, or a military-trained medic can apply for the exam through equivalence training. They will have to submit proof of their education and training to the state's Aide and Technician Certification Section. If proven eligible, the ATCS will give the applicants further details regarding the exam.
According to the law, only ATCS-certified nursing assistants are allowed to work in an approved health care facility in California. They will be allowed to work so long as their certificates remain valid. To maintain a nursing assistant certificate, the holder must renew it every 2 years before it expires. No individual is allowed to continue working once his certificate has expired.
Although challenging the certification exam is the most common way to get certified in California, it is not the only way. The second route is only offered to individuals who are already certified as a nursing assistant in another state. When applying, the applicant must have a current certificate and a clean record. He must not have any accounts of patient abuse, neglect, or be listed on the Abuse Registry. Applicants through this process are also required to pass the background checks that are done in federal and state levels.
Fowler is a city that is situated within Fresno County. It was originally known as Fowler's Switch. You can also find this city in the San Joaquin Valley. Its main economy is structured around agriculture. It is also just a few miles from downtown Fresno. As of the latest census, they now have a total population of around 5,570 people.
Examples of health care centers that you can find in the area include Fowler Medical Center, Adventist Health / Community Care, Fowler Community Health Center: Chen Harry MD, Community Adult Health Center, Industrial Health Care, United Health Center Inc., Healing Health Center, and Baart Programs Addiction Research. photo attribution: westconn