The training programs in Exeter, California that instruct one to become a nurse aide are shown on this page. This list contains all the contact details for the state recognized institutions. For more information about course schedules, enrollment details or program requirements please contact the number provided.
Exeter Union High School
820 San Juan
Exeter, CA 93221
(559) 592-2127
To work as a CNA in California you must be certified by the Aide and Technician Certification Section. If you have not been certified before as a nursing aide, then you will have to take both parts (knowledge and skills test) of the National Nurse Aide Assessment Program examination.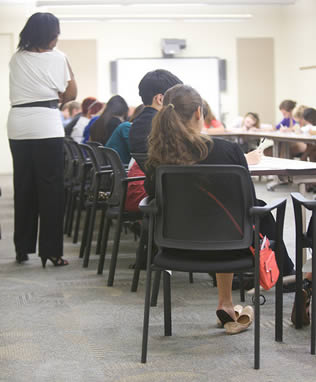 All student nursing aides are required to successfully pass a state-approved CNA training program. The California Department of Public Health is responsible for certifying and monitoring all training programs within the state. You must only enroll in a program that is approved by them. Receiving CNA training from a CDPH-approved program will make you eligible to apply for the NNAAP exam for 2 years. This means that you must pass all tests in the NNAAP exam within 2 years after completing your training. If you fail, you will be required to complete another training program.
The demand for nursing aides in California is so great that even licensed nurses, licensed vocational nurses, military-trained medics, and nursing students/graduates also want to become nursing aides. These people are allowed to apply directly for the exam, without undergoing additional training, once the ATCS determines their eligibility. These individuals must call the CDPH at (916) 327-2445 before submitting their application forms to their nearest Regional Testing Center.
A certified nursing aide from another state can work in California by applying for reciprocity. This will allow them to transfer their certification to the state. If approved, they will get ATCS-issued certifications without the need for any testing. Applicants must have a current certification and a clean record. Applicants are still required to pass the mandatory background checks for criminal records to be accepted.
CNA certifications in California are only valid for 24 consecutive months. Certified nursing aides must renew their certification every 2 years before it expires. The ATCS will send out a notice to your address at least 4 months before your certification expires. To be eligible for renewal, you must complete 48 hours of in-service training or continuing education as well as be able to work for at least 8 hours as a paid nursing aide.
This is a city that is situated in Tulare County. You can find Exeter close to the foothills of the Sierra Nevada Mountain Range. Their current population is now at 10,334. Exeter is on State Highway 65 which is a few miles south of Highway 198. It is also just a few hours' drive from Los Angeles and San Francisco. It has a total area of 2.463 sq miles and a population density of 4,195.8/sq miles.
Examples of health care centers that you can avail in the city include San Juan Health Center (559) 592-7128, Sequoia Youth Services (559) 594-9329, Sequoia Youth Services (559) 594-4969, and San Juan Health Clinic in 131 N Crespi Ave. photo attribution: departmentofed