Applicants can locate nurse aide classes in El Cerrito, California listed for you on this page. Those who enroll will be required to complete all the required training hours in order to qualify for the license exams. Contact the phone number provided for additional details such as program requirements, taking the certification exam, class costs, and schedules.
Shields Nursing Center
3230 Carlson Blvd.,
El Cerrito, CA 94530
(510) 525-3212
If you are looking for a way to start a career in the field of health, you might want to consider becoming a nursing aide. California is one of the best states to become a CNA because of its high salaries and endless opportunities. The process of becoming a nursing aide involves mainly in receiving the proper training and then challenging the certification exam.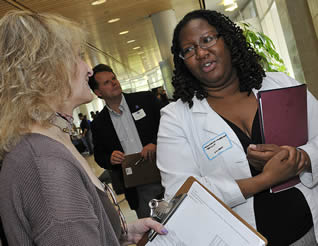 CNA Training
Receiving CNA training is the first step in becoming a nursing aide. While enrolled you will learn how to meet the individual needs of the patients as well as learn the basic nursing procedures. You must make sure that the program you choose to enroll in is approved by the CDPH. Programs can take at least 150 hours to complete.
Applying for the NNAAP Exam
By completing an approved program, you will become eligible to apply for the exam. You must submit a completed application form and send it to the appropriate Regional Testing Center. You can get an application form from your instructor or go to www.pearsonvue.com. If you apply online you will have to pay for the testing fee of $90 with the use of your MasterCard of Visa Card.Remember that all payments are permanent and are non-refundable
Challenging the NNAAP exam
The National Nurse Aide Assessment Program exam consists of a written/oral test and a skills evaluation. To get certified, you must pass both of the exams within 3 attempts. On the day of the examination, please arrive at least 15 minutes before the start of the exam to avoid being late. Latecomers are not permitted to enter the testing area once the exam has started. You will also be required to bring a government-issued ID and your Social Security card for the check-in.
If you pass both of the exams, the Aide and Technician Certification Section will send you your certification within 10 days after passing. If it does not reach your address within 30 days after you pass, please call (916) 327-2445.
Maintaining Your Certification
Once you are certified, you will be allowed to work in a certified nursing aide. To keep your eligibility to work, you must keep your certification active. You will need to renew it every 2 years before it expires. A CNA is not permitted to continue working once his certification has expired. An expired certification cannot be renewed but can be reactivated by passing an evaluation exam, if the certification has not expired for more than 2 years.
El Cerrito is a city in Contra Costa County. As of the latest census, census of 2010, they have a total population of around 23,549. The total area of El Cerrito is approximately around 3.688 sq miles, where all of it is water. The city's population density is 6,385.3/sq miles.
The Shields Nursing Center is also considered as one of the top employers in the city. Examples of health care centers that you can find in the area include Your Source for Wellness Health Center (510) 567-4988, Bay Area Medical Massage (510) 367-4632, and Heather Burns, LCSW #25591 (888) 550-1211. photo attribution: westconn