Those looking to become certified to be employed as a nurse aide can locate the latest classes in  Chatsworth, California that are currently available listed below. If you know any training courses that meet state standards in the city, send them to us and we will add them to the page.
[There are no CNA Classes in Chatsworth, CA that are being offered as of the moment.]
If you want to work as a nursing aide in California, you will have to enroll in a state-approved CNA training course. This course will teach you how to properly meet the individual needs of each patient. Approved programs are required by the state to offer 150 hours of training, which are divided into 50 hours of theories and 100 hours of supervised clinical training.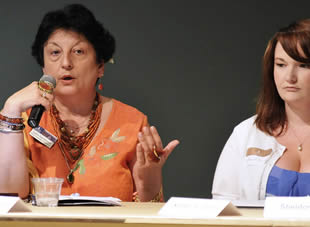 By enrolling in an approved program, not only will you gain the knowledge and skills needed to be a nursing aide, you will also become eligible to apply for the National Nurse Aide Assessment Program exam. This exam is divided into a 70-item multiple-choice knowledge exam and a clinical skills evaluation of selected nursing skills that were taught to you during training. The State of California has currently authorized Pearson VUE to help conduct, score, and release the results of this exam.
If you pass both the knowledge and skills exam, you will receive your CNA certificate from the Aide and Technician Certification Section or ATCS. Employers will look for your certificate when you apply for work as a nursing aide. You are allowed to work as a nurse aide as long as your certificate remains valid.
CNAs are required to renew their certification every 24 months to keep their certificate active or valid. During that time, you must be able to work for at least 8 hours as a paid nursing aide while under the supervision of a registered nurse. You are also required to complete 48 hours of in-service training/CE. A minimum of 12 hours must be completed in each year. You will need to keep proper track of your hours by listing it in this form (http://www.cdph.ca.gov/pubsforms/forms/CtrldForms/CDPH283a.pdf).
If you fail to renew your certificate, it will expire and you will no longer be allowed to continue to work as a CNA. If your certificate expired less than 2 years, you can reactivate it by taking an evaluation exam without any additional training. If your certification however, has expired for more than that time, you will have to start all over.
Chatsworth is one of the districts in Los Angeles, CA. It is situated in the northwestern portion of the San Fernando Valley. It is surrounded by the Santa Susana Mountains and other lands of Los Angeles County in the north. You can find Porter Ranch to the northeast of this city, as well as Northridge in the east, West Hills, and Winnetka to its south. As of the latest census, they have a total population of 41,255.
Examples of health care centers that you can find in the city boundaries include All Healthcare Management, Four Season Health Services, Hearing Health Services, Gold Star Healthcare, Thalians Community Mental Health Center, North American Healthcare, Total Family Support Clinic, Joerns Healthcare LLC, and Forever Young Adult Day Healthcare Center. photo attribution: westconn