The CNA Classes in Charlotte, North Carolina listed below are all the certified nursing assistant classes that are being offered right now. These training programs are all approved by the state of North Carolina Department of Health and Services.
American Academy of Healthcare, LLC
5601 Executive Center Drive. Suite 215.
Charlotte, NC 28212
(704) 525-3500
Caregivers Institute, Inc
904 Pecan Avenue
Charlotte, NC 28205
(704) 373-0954
Carolinas College of Health Sciences
1200 Blythe Boulevard
Charlotte, NC 28203-5816
(704) 355-0975
Central Piedmont Community College
1201 Elizabeth Avenue
Charlotte, NC 28204-2820
(704) 330-4377
Chosen Healthcare Institute, Inc.
8430 University Executive Park Dr. Suite 640
Charlotte, NC 28262
(704) 547-1988
Divine Health Academy
7506 East Independence Blvd # 128
Charlotte, NC 28227
(704) 566-2955
Health Care Institute of Charlotte
5820 E Wt Harris Blvd
Charlotte, NC 28215
(704) 563-3900
Nurse Aide Institute of Excellence
5100 Reagan Drive #6
Charlotte, NC 28206,
(704) 509-4714
Queens University Continuing Education
1900 Selwyn Ave.
Charlotte, NC 28274
(704) 337-2537
Serenity Nurse Aide Academy
3126 Milton Rd # 234
Charlotte, NC 28215-3782,
(704) 567-8000
Umanah Healthcare Institute
5801 Executive Center Drive, Suite 103
Charlotte, Nc 28212
(704) 287-8534
The completion of a nursing assistant training course is the first step to being a nursing assistant or a nursing aide. Due to the high demand for this profession, you can find a state-approved training program offered by different institutions such as colleges, nursing homes, and hospitals. It is very important that you received proper education and training prior to handling residents.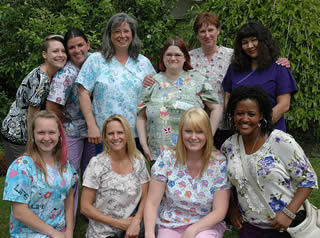 To ensure that training programs offer standardized training, they are required to get certified before they take on any students. One of the requirements is that they must follow the curriculum which was developed by the federal and the state. Aside from the federal required topics like basic care, infection control, safety and emergency procedures, residents' rights and independence, and communication skills, the state of North Carolina also places importance on how to properly take care of the geriatric residents. State-approved programs are also required to offer no less than 75 hours of training, which are divided into lectures, laboratory work, and clinical duties.
If you are a nursing aide candidate who was able to complete a N.C. state-approved training course, you are allowed to work for a maximum of 4 months as a nursing assistant while you wait for you to take the exams. This is only possible if your training program and the healthcare facility have an agreement that the training program will take responsibility for your actions.
If you get hired by a Medicare/Medicaid nursing facility while working during your allotted 4 months, you will no longer be required to pay for the exam fees. All the payments will be made by your employer. If a candidate is hired by an employer within a year from getting certified, he may become eligible for reimbursement. That is why it is important to keep all original receipts.
Since the state does not offer reciprocity or endorsement, the general way to get into the N.C. NAR is by passing the NNAAP exams, which consists of a knowledge test and a skills evaluation of the nursing skills that were taught during training. The exams are conducted, scored, and the results are released by Pearson VUE. If you have any questions, you may contact their customer services at (888) 723-6773, between 8:00 am to 8:00 pm.
The competency exam, or better known as the National Nurse Aide Assessment Program or NNAAP exam, consists of a written and a clinical skills test. It was designed by the NCSBN to determine if the aspiring nurse aide is competent to take care of the patients in terms of both skills and knowledge. To get certified, you must pass all the tests.
A CNA certification is only valid for 24 months. To remain eligible for work as a nurse aide, you must renew your license. Aside from the completion of a renewal form, you must also provide proof that you had 8 hours of qualified work within the last 24 months. "Qualified" work can be considered if:
•    You worked for pay
•    You were performing nurse aide tasks
•    The work you performed was delegated and was supervised by a registered nurse
If you are a registered nurse with a valid license and a good record on the Board of Nursing, you can train to be a nurse aide instructor. Before you can work as one, you must also get certified. You can qualify if you have at least 2 years of experience, where one of those years was spent working in a long-term care center providing nursing services. You must also have completed a train-the-trainer course or at least have some background in educating and training adults.
This is the county seat of Mecklenburg County. It is considered as the largest city in the entire state of North Carolina. It is a part of the Charlotte metropolitan area. As of the census of 2010, their total population was at 731,424 people. It has a total area of about 297.7 sq miles and a population density of 2,457/sq mile. It is considered to be the 17th most populous city in the entire country.
Health care providers that you may find in the city include Family Reproductive Health, Arrowood Medical Center, EQCS, Prime Care Medical Center, Integrated Healthcare Solutions, Metrolina Kidney Center of North Charlette, Behavioral Health Center-Cmc Randolph Nursing Units, Specialized Information Management, Gordon James E PA, Beatties Ford Road Family Counseling Center, and many more. photo attribution: ufv