The CNA classes in Bismarck, North Dakota that are shown here offer the best training programs that are available in the city. For more information, please contact one of the programs below and talk with an administrator of the facility.
Bismarck State College
1500 Edwards Ave., Bismarck, ND 58501
(701) 224-5400
http://www.bismarckstate.edu/
Bismarck Public Schools Nursing Assistant Class
806 North Washington Street, Bismarck, ND 58501
(701) 323-4000
http://www.bismarck.k12.nd.us/district/
Medcenter One
300 North 7th Street, Bismarck, ND 58501
(701) 663-4267
If you are looking for a practical way to start a career in the health industry, you might want to consider becoming a nursing assistant. Nursing assistants or nurse aides are people who mainly work under the supervision of a registered nurse or the medical staff. They are tasked with helping the nurses take care of the needs of the patients. These tasks are simple and routine and are dependent on what the nurses' delegate.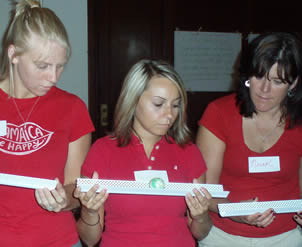 To become a nursing assistant, you will have to enroll in a state-approved training program. An approved CNA program will offer 75 hours of training, with an additional of 16 hours allotted for clinical practice. The students are only required to have a minimum of 16 classroom hours before they are allowed to go on duty in the clinical area. The topics covered during training will cover a wide range of subject like infection control, mental health, basic, care communication skills, and emergency procedures.
You will also be required to pass the background check and to take the state license examinations. If you complete all these, you can then work as a CNA in the state.
If you are currently enrolled in a training program offered by a nursing home, you are only given 4 months to take the license exams and get your name on the Registry. While working in the nursing home, you will not be allowed to do any procedures that have not been tackled in the training program or without the supervision of an instructor.
To become certified you will need to pass the NNAAP exams which consist of a written/oral exam and a skills evaluation on the skills that are taught in training. You must pass all the portions to gain entry into the Registry. Your status on the Registry and your license will remain active for up to 24 months. During that time, you must be able to work for at least 8 hours as a paid nursing assistant in order to renew your license.
Once you gain initial nursing assistant certification, you can opt to attain a higher or advance certification. You can try to become a medication aide I or MA II, or you can try becoming a home health aide. These advance certifications will require you to undergo additional training and testing.
Bismarck is the state capital of North Dakota. It is also the county seat of Burleigh County. founded in 1872, it was been the state capital since 1889. You can find this city located on the eastern bank of the Missouri river. It is a primary city of the Bismarck-Mandan Metropolitan Statistical Area. According to the 2010 census, they had a total population of 61,272 people. This makes them the 2nd most populous city in the state. The city has a total area of 31.23 sq miles and a population density of 1,986.4/sq mile.
The St. Alexius Medical Center and Medcenter One Health Systems are the two hospitals that are located in the city. Other health care centers that are found in the area include Center For Family Medicine UND, Eye Clinic Of North Dakota, Trinity Medical Group, Bismarck Cancer Center, Mid Dakota Clinic 9th & Rosser Main Clinic, Healthways, and A Balanced Mind Psychiatric Wellness Center. photo attribution: create-learning