Faculties in Belmont, California that currently are conducting nurse aide training that is approved for enrollment can be found below. Included in the list are all programs that will enable one to qualify for testing upon completion. For more details about taking the CNA examination, class enrollment, or schedules, contact the phone number provided.
Belmont Convalescent Hospital Nurse Aide Training Program
1041 Hill Street,
Belmont, California 94002
(650) 591-7181
Carlmont Gardens Nursing Center
2140 Carlmont Drive,
Belmont, California 94002
(650) 591-9601
According to the Nursing Home Reform Act, all individuals who wish to work as a nursing aide must now be properly certified. The only way for an individual with no background in the field of health to be certified is to challenge the National Nurse Aide Assessment Program.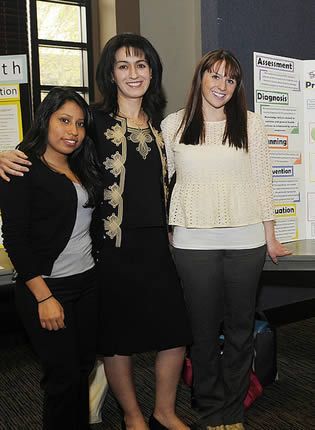 All candidates who wish to take the NNAAP exam are required to receive proper training in order to be eligible to apply. This means that you must attend and complete a CNA training program that is approved by the CA Department of Public Health. These programs offer a minimum of 150 hours of training, which are divided into lectures and clinical training under the supervision of a qualified CNA instructor.
If a person who is currently a registered nurse, a licensed vocational nurse, or a military-trained medic wishes to become a nursing aide in California, he will have to challenge the NNAAP exam to do so. This individual is allowed to apply directly for the exam without any additional training. To apply, he must submit the following forms to the Aide and Technician Certification Section:
•    An official transcript of training
•    Proof of providing nursing or nursing-related services within the last 2 years. (If the applicant has been licensed or certified for less than 2 years, he may neglect this requirement.)
•    A copy of a completed Request for Live Scan Service
•    The completed application form (http://www.asisvcs.com/publications/pdf/070503.pdf)
The NNAAP exam is divided into two parts – the knowledge test and the clinical skills evaluation. The knowledge test may be taken in its oral or written version. For those who wish to take the oral exam, they must submit a letter of request when they apply. The Chancellor's Office of the California Community Colleges System has contracted Pearson VUE to assist in the scheduling, conducting, scoring, and releasing of the results.
You can visit their official website at www.pearsonvue.com to:
•    Download a copy of the Candidate Handbook
•    Apply and Schedule for an exam date
•    Check the Regional Test Sites testing dates
•    Download an application packet
•    Try the Nursing aide practice written exam
To be certified, you are required to pass both exams. You will only have three attempts to pass. If you fail in one part, you will have to reapply and retake the part that you failed. When you retake the exams, you will also only need to pay for the test that you are retaking. You will only be given 3 attempts to pass all the tests.
Most of the time, the results of the exams are released on the same day. If you pass, your name will be forwarded to the ATCS. They will then mail you your certificate within 10 business days. This certificate remains valid for 24 months. If you wish to continue your eligibility to work as a nursing aide, you must renew it before it expires. You can download a copy of the forms as well as see the instructions on how to renew by following this link: http://www.asisvcs.com/publications/pdf/070512.pdf.
Belmont is a city that is part of San Mateo County. It is located in San Francisco Bay Area. You can find this city situated halfway between San Mateo and San Carlos. According to the latest census, they have a total population of 25,835. Belmont has a total area of 4.630 sq miles and a population density of 5,579.9/sq miles.
Examples of health care centers and providers that you can find in the city include Lavender Health Center, Belmont Health Center, Bay Health Center, Notre Dame De Namur University Graduate Programs, Sequoia Physicians Network, and Sequoia Medical Group. photo attribution: westconn