The CNA Classes in Bakersfield, California are listed below. This list offers nursing assistant training in health care facilities, nursing programs, adult schools, vocational programs and college instruction. To get additional information about enrolling in a training program found on this directory call one of the phone numbers below.
Bakersfield Adult School
2727 F ST
Bakersfield, CA 93307
(661) 835-1855
Bakersfield College Nursing Program
1801 PANARAMA DRIVE
Bakersfield, CA 93305
(661) 395-4011
Bakersfield Healthcare Center
730 34th Street
Bakersfield, CA 93301
(805) 327-7687
Bakersfield Memorial Hospital
420 34th Street
Bakersfield, CA 93312
(805) 327-1792
Beverly Manor
3601 San Dimas
Bakersfield, CA 93301
Phone: (805) 323-2894
Californian Care
2211 Mt. Vernon Avenue
Bakersfield, CA 93306
(805) 872-2121
Evergreen Healthcare Center
6212 Tudor Way
Bakersfield, CA 93306
(805) 871-3133
Golden Living Training Program
3601 SAN DIMAS
Bakersfield, CA 93301
(661) 324-7756
Kern Care Center
6600 Eucalyptus Drive
Bakersfield, CA 93306
(805) 366-5757
Kern High School R.O.P.
501 S. MT. VERNON AVE.
Bakersfield, CA 93307
(661) 831-3327
Life House Parkview
329 North Real Road
Bakersfield, California 93309
(805) 327-7107
Parkview Julian
1801 Julian Avenue
Bakersfield, CA 93304
(805) 831-9150
Preferred College of Nursing
2300 TRUXTON AVENUE, #200
Bakersfield, CA 93301
(661) 324-2509
Rosewood Health
1401 New Stein Road
Bakersfield, CA 93309
(805) 834-0620
Valley Convalescent Hospital
1205 8th Street
Bakersfield, CA 93304
(805) 334-2200
Aspiring nurse aides must successfully complete a 150-hour training program. It is important that all aspirants learn how to properly take care of the patients' individual needs. CNA training in this state, like all others, consists of both lectures and supervised clinical practice.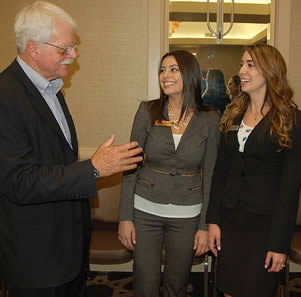 Before the students are allowed to take care of the patients, they must first complete 16 hours learning the following concepts:
•    Infection control
•    Safety protocols
•    Emergency procedures
•    Respecting the patient's rights
•    Promoting the patient's independence
•    Communication and interpersonal skills
Once they complete their training, they can immediately apply for the National Nurse Aide Assessment Program examination or NNAAP exam.  This exam consists of a multiple-choice written/oral test and a random skills evaluation. Both tests must be passed in order to gain entry into the state's Nurse  Aide Registry.
The Nurse Aide Registry (NAR) is a master list of all individuals who have successfully met both the federal and state's training and testing requirements. Employers are required to verify each of their applicant's certification through the NAR before hiring them.  If you want to check your own status as a certified nurse aide, then all you have to do is to go to http://www.apps.cdph.ca.gov/cvl/SearchPage.aspx and enter your name or certificate number.
CNA certifications in California are only valid for 2 years. Certified nurse aides must renew their certification before it expires. Once a certification expires, it can no longer be renewed, and you will have to stop working as a nurse aide. The good news however, is that you can reactivate your certification within a year of its expiration if you take a competency evaluation exam.
Due to the high demand of nurse aides in this state, California is now offering reciprocity to other states. Certified nurse aides from other states can transfer and work in California without the need for further testing. To be eligible, the applicants must have a current certification and a clean record. Applicants whose names are found on the Abuse Registry are not allowed to work in a state-approved nursing facility.
The city of Bakersfield resides inside Kern County and as of the 2010 census has a population of 347,483 people. It is ranked the 63rd largest city in the U.S. photo attribution: repgeorgemiller