The CNA classes that are approved for instruction in Augusta, Georgia are all listed below. Included in the list are the long-term care facility programs, college courses, and vocational centers that are being offered in the city at this time.
B.E.D.S. Beneficial Educational Developmental System
3218 Hillsview Drive,
Augusta, GA 30909
(706) 650-5793
Augusta Technical College
3200 Augusta Tech Drive,
Augusta, GA 30906
(706) 771-4175
http://www.augustatech.edu/
Tender Care Training School
1140 Druid Park Ave.,
Augusta, GA 30904
(706) 736-9225
Training For Life Academy (TFL)
223 Telfair Street,
Augusta, GA 30901
(706) 814-6941
http://training4lifeacademyinc.vpweb.com/
There are a number of requirements that must be done before you can be a CNA. The first thing that you must do is to enroll in a state-approved NATP. The program you select should be approved by the Georgia Medical Care Foundation to make sure that you will be allowed to apply for the license exams afterwards.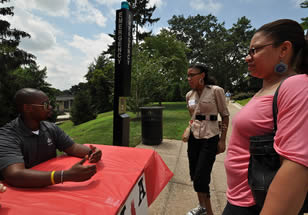 While involved in your training you will receive hands-on skills experience that is set in an environment similar to a health care center. This way you can learn how to perform the necessary tasks used on the job in a clinical setting. Skills, tasks and procedures you will practice include: safety practices, infection control, measuring & recording vital signs (blood pressure, respiration, temperature, pulse), transporting residents, catheter care/maintenance, first aid, Heimlich Maneuver, CPR, and range of motion exercises.
Passing the license exams is a crucial step in becoming a nursing assistant since the state does not allow an individual to work permanently as a nursing assistant without a CNA license. If you are already working as one in a nursing home, you must be able to finish your training and pass the license exams within 4 months from the start of your work.
Nursing assistant license holders can also work in Georgia by apply for reciprocity. When they apply, they should still have a valid license. Since those who are applying for reciprocity will undergo background checking, they should also have a good relationship with the state they come from. Having records like negligence, patient abuse, or malpractice can be used to reject their application. For more information, you should contact the GMCF at (678) 527-3010.
This consolidated city is considered as the county seat of Augusta-Richmond County. It is a main city of the Augusta-Richmond County Metropolitan Statistical Area. The city is sometimes referred to as the The Garden City. According to the census of 2010, their total population was around 195,844 people. It has a total area of about 306.5 sq miles and a population density of 1,448/sq mile.
Examples of health care clinics that you can find in the area include Paine College – Psychology Lab, Serenity Behavioral Health System, Augusta Metro Treatment Center, Scruggs Clinic of Chiropractic, Tyco Healthcare Group LP Ga Ca Whse, University Home Health Services, and Eye Physician & Surgeons of Augusta. photo attribution: sjuadmissions