The state registry approved schools providing CNA classes in Atlanta, Georgia that you can enroll in as of the moment are shown on this page. For more information, please speak to a program representative by calling the phone number for one of the facilities listed below.
A.G. Rhodes at Wesley Woods
1819 Clifton Road N.E.,
Atlanta, GA 30329
(404) 315-0900
Cross Keys High School
1626 North Druid Hills Road NE,
Atlanta, GA 30319
(678) 874-6102
Alpha Nursing Training Institute, Inc.
777 Cleveland Avenue SW, Suite 605,
Atlanta, GA 30315
(404) 209-0163 and (404) 767-6444
Website: http://www.alphanursingservices.com/
Murray Career Institute
233 Mitchell Street,
Atlanta, GA 30303
(404) 228-1568
http://www.murraycareerinstitute.com/
Atlanta Job Corps Center
239 West Lake Avenue NW, Center
Atlanta, GA 30314
(404) 794-9512
http://atlanta.jobcorps.gov
Atlanta Technical College
1560 Metropolitan Parkway SW,
Atlanta, GA 30310
(404) 225-4507
http://www.atlantatech.edu/
Covenant CNA School
1 Baltimore Place,
Atlanta, GA 30308
(404) 733-5491
https://www.covenantcna.com/
Faks Allied Health Education Center
5150 Old National Hwy.,
Atlanta, GA 30349
(404) 763-0055
http://www.faks-allied-health.com/
Heritage Healthcare of West Atlanta
2645 Whiting Street NW,
Atlanta, GA 30318
(404) 799-9267
Sadie G. Mays Health and Rehabilitation Center
1821 Anderson Avenue NW,
Atlanta, GA 30314
(404) 794-2477
Wamita Allied Health Trainng Center, LLC.
5650 Fulton Industrial Blvd.,
Atlanta, GA 30336
(404) 344-1333
The first step in becoming a nursing assistant is the completion of a training program that is approved by the GMCF. The Georgia Medical Care Foundation oversees and manages all the NATPs and the state's Nurse Aide Registry for this state. It is very important that the CNAs in this state meet the qualifications of the Medicaid healthcare facilities. It is also important that the nursing assistants are able to handle different healthcare settings.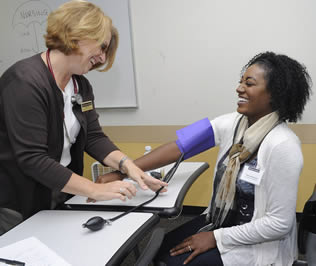 The training programs are offered by colleges, community training centers, private schools, nursing homes, and certain healthcare centers. Their training is composed of laboratory skills training, lectures about the fundamentals of nursing, and clinical duties. Before the student is allowed to proceed to the clinical rotations, he/she must get a 100% rating in the lab. When they are in the clinical area, they will be placed under the care of a RN or a LPN. No instructor will be allowed to handle more than 14 students at a time.
During your training you'll learn some valuable skills that are required while on the job. Here are some of the primary tasks you will become proficient with: catheter care, range of motion exercises, feeding, transporting patients, measuring & recording vital signs (respiration, blood pressure, pulse, temperature), infection control, Heimlich Maneuver, First Aid, CPR,  safety procedures, and restorative care.
If you are a CNA license holder from a different state, you are welcome to apply for reciprocity so you can work in this state. To be able to do this, you must apply for reciprocity. When you are applying, you should have an active license and a good relationship with your state. All those who are applying for reciprocity are also subjected to the background checks. You can reach the state nurse aide registry to learn more about the prerequisites to taking the certification exam and how you can qualify by visiting www.mmis.georgia.gov or calling the local number at (678) 527-3010 or toll-free at (800) 414-4358.
Atlanta is the county seat of Fulton County. It is the capital of the state. With a total population of 420,003, during the last census it is considered as the most populous city in the state. It has a total area of 132.4 sq miles and has a population density of 3,190/sq mile.
Examples of health care providers that are in the city include South Atlanta Urgent Care Clinic, Peachtree Psychological Associates, Women's Counseling Center of Atlanta, ACS State Healthcare, Georgia Council On Substance Abuse, The Informed Choice, Georgetown Healthcare Center, Chamblee Wellness Center, Ocuplastic Inc., and many more. photo attribution: codnewsroom