The CNA training classes that are available for enrollment in Burlington, Vermont as of the making of this page are shown below. To learn more about how you can receive certification through their programs, contact a school listed here.
Birchwood Terrace Healthcare
43 Starr Farm Road,
Burlington, VT 05401
(802) 864-7956
Burlington Health and Rehabilitation
300 Pearl Street,
Burlington, VT 05401
(802) 658-4200
Fletcher Allen Health Care
111 Colchester Ave.,
Burlington, VT 05401
(802) 847-2370
Starr Farm Nursing Home CNA Class
98 Starr Farm Road,
Burlington, VT  05401
(802) 658-4193
Professional Nurses Service
110 Kimball Ave., Suite 250, S.
Burlington, VT 05403
If you wish to work as a nurse assistant in the State of Vermont, then you must aim to gain entry into the Nurse Aide Registry. This Registry contains the names of all those who have met the federal and state training and testing requirements. Employers will only hire LNAs who are in the NAR.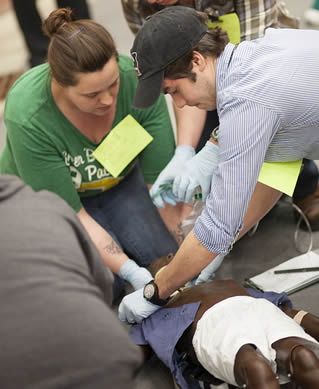 The best way to gain entry into the NAR is by challenging the National Nurse Aide Assessment Program examination or the NNAAP exam. This test consists of a written/oral exam and a random skills evaluation. Only individuals who are able to complete a state-approved training program may apply for the exam.
CNA or LNA training in Vermont consists of 75 hours of lectures, lab works, and supervised clinical practice. There is also an additional requirement of 30 hours of practical training while under the direction of a registered nurse. You can find approved training programs offered through hospitals, community colleges, nursing facilities, government organizations, websites, and other schools and institutions.
Although each program has its own requirement, there are a few things that they have in common such as:
•    Aspiring nurse assistants must be at least 16 years old
•    They must be mentally and physically fit and free of any communicable ailments
•    Be able to read and write English (Some may require a high school degree or a GED certificate)
•    Pass the criminal background checks, both federal and state levels
Completing an approved training program will make you eligible to apply for the NNAAP exam. Taking this exam is an important step in becoming a nurse assistant since employers will only hire those who have passed the NNAAP exam.  The NNAAP exam consists of a multiple-choice knowledge test and a skills evaluation exam. Candidates must pass both tests to become an LNA.
Nursing students and graduates are also allowed to apply for the exam if they completed their studies or at least a semester of nursing school within the last 2 years. The same also applies to individuals who took up their nurse assistant training in another state. But before either of them can apply, they must first request for an Authorization to Test from the state's Board of Nursing.  They will be required to provide proof of their training and education by showing a copy of their transcript of records or a certificate of completion of training.
The State of Vermont is open to reciprocity. Applicants must have a clean record and a valid certification. To protect the interest of the patients, all applicants are still required to undergo and pass the federal and state criminal background checks.
This city is the shire town or county seat of Chittenden County. It is about 45 miles south from the border of Canada and about 94 miles south from Montreal. Burlington is the biggest city that you will find in the state of Vermont. It has been nicknamed as "The Queen City". As of the 2010 census, their total population was estimated to be 42,417 residents with a population density of 3,682.0/sq mile. It has a total area of approximately 15.5 sq miles, where 4.9 square miles of it is water.
The Fletcher Allen Health Care can be found serving this city. Other health care providers that are located in the area include Community Health Centers of Burlington | Medical Clinic, Planned Parenthood: Burlington Health Center, Pearl St Clinic, Vermont Community Acupuncture, Birchwood Terrace Healthcare, and many more. photo attribution: codnewsroom