The certified nursing classes in Clyde, North Carolina that have been approved by the North Carolina Department of Health and Services are all listed for you in detail on this page. If you have any questions about their certification instruction, the cost of training, or classroom schedules, please call the number below.
Haywood Community College
185 Freedlander Drive
Clyde, NC 28721-9432
(828) 627-2821
http://www.haywood.edu/
There is plenty of work waiting for those who want to pursue a career as a nursing assistant. With its current demand continuously on the rise, newly certified nursing assistants will have no problems getting a job. Many experts believe that this profession will continue to increase in growth up to 2016, so this is the perfect time to start training to become a nursing assistant.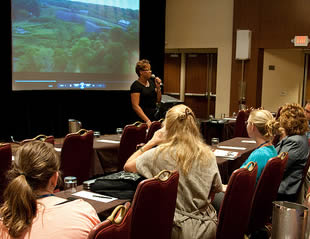 According to the Nursing Home Reform Act, to work as a nursing assistant, you must get certified before you can start working as one. This means that you will have to challenge and pass the NNAAP examinations. If you do not have any knowledge or medical background about taking care of patients, you can become eligible to take the exams by completing a state-certified nursing assistant 1 training program.
The competency exams in the state of North Carolina are offered by Pearson VUE. The exam consists of a written test and a skills test. If you have difficulty with reading or written English, you can request to have the oral exam, which is available in English and Spanish. To receive your certificate, you must pass both the exams. If you do, your name will be added to the N.C. Nurse Aide I Registry within a few days from your exam date.
Getting a CNA 1 certificate is only the beginning of the work opportunities as a nursing assistant. You can further your career by acquiring advance certifications. You can get certified as a medication assistant, geriatric aide, or train to become a nursing assistant II, which will further expand your scope of duties and tasks.
If you want to be a geriatric aide, you must have a valid CNA 1 certification, a clean record, and be able to complete a state-approved geriatric training program. The programs are offered at different community colleges. Once you complete the course, your name will automatically be entered in the Geriatric Aide Registry.  This certification does not need a renewal since it does not expire.
The process of becoming a medication aide is a bit similar. To get certified, you must also pass an approved 24-hour CMA training course. As soon as you are done, you can then take the state medication aide exam, which is also offered by Pearson VUE.
This town is a part of Haywood County. It is also a part of the Asheville Metropolitan Statistical Area. According to the last census, their total recorded population was at 1,324. This town has a total area of approximately 0.8 sq miles, and a population density of 1,579.2/sq mile.
Examples of health care centers and facilities that you can find in the area include La Fata John A DO, Midway Medical Center, Mountain Medical Associates LLP, Ramsey Carolyn DO, Caffrey Brian B MD, Hunter Shannon E MD, Paschal Barton R MD, Plastic Surgery Center, Gross Charles M MD Facc and many more like them. photo attribution: rdecom