The certified nurse aide classes in Cleveland, Wisconsin that are shown on this page are all the state sanctioned instructional courses that are open for enrollment. For more information about their training programs, cost of instruction, certification requirements or classroom schedules, please call the number below.
LAKESHORE TECHNICAL COLLEGE
1290 NORTH AVE
CLEVELAND, WI 53015-
(920) 693-1386
The Nurse Aide Registry contains all the names of individuals who have successfully met federal and state training and testing requirements. According to the law, only those individuals, who are on the list, are allowed to work in a Medicaid/Medicare health care facility.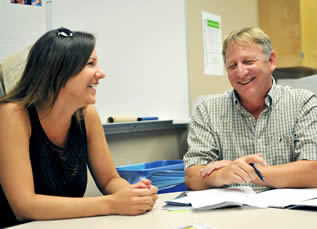 If you had never been certified as a nursing aide before, then the only way for you to get into the Nurse Aide Registry is to pass the National Nurse Aide Assessment Program Examination or NNAAP exam. This exam consists of a multiple-choice knowledge test and a skills evaluation exam. Only candidates who pass both tests will be entered into the NAR. All candidates who wish to take the NNAAP exam must successfully complete a state-approved training course.
The good news is that there are several routes to establish eligibility for the NNAAP exam. All you have to do is to qualify through any of the following routes:
–    New nursing aides.
–    Nursing students.
–    Graduate nurses who don't have a license.
–    Foreign-trained nurses.
–    Nursing aides with lapsed certifications.
–    Home health nurse aide.
–    Out-of-State nursing aide student/CNA.
New Nursing Aides
These are individuals who don't have any training whatsoever in providing nursing services to patients. In order to qualify, they will have to complete an approved CNA course. Approved courses consist of at least 120 hours of training, of which 32 are required to be allocated to clinical practice in a licensed nursing facility. During the duration of the program, students will be supervised in the clinic by a qualified CNA instructor. Students are not allowed to perform any procedure without the knowledge or presence of their instructor.
A healthcare facility is allowed to hire a person to work as a nursing aide even without a certification; provided that the facility takes responsibility of the actions of the nursing aide without a certification. Upon starting work, the individual will then have 120 days to complete a program and get certified. These nursing aide students are not allowed to perform any procedure that hasn't been taught in the classroom.
Training and Testing Fees
A person who is already employed, or has received an offer of employment, from a Medicaid/Medicare facility prior to enrolling in a program cannot be charged for any payment. All expenses (both training and testing) must be paid for by the employer.
If you pay for your training and testing prior to employment, you will be eligible for reimbursement. To qualify, you must get employed within 12 months after getting certified. You should keep all your original receipts to get the right amount of reimbursement.
Questions?
If you want to know more about the nursing aide certification process, please call the ARC at (866) 257-5424. You can also get a copy of the Nursing Aide Candidate Handbook by visiting Pearson VUE's official website at www.pearsonvue.com. The license examinations are conducted by a company called Pearson Vue. This company also runs the Wisconsin Nurse Aide Registry for the state. You can speak to a representative of the registry for information about the latest requirements of with any other questions by calling toll free to (877) 329-8760.
This Cleveland was a small village in Manitowoc County. It had a total population of 1,361 residents during the last census. Its total area is approximately 2 sq miles, where all of it is land. Its population density is 665.1/sq mile. This village was named after President Grover Cleveland.
Examples of health care clinics and providers that you can find in the area include Cleveland East Central Clinic (920) 693-5600, Schaper DR R R (920) 726-4343, Stoltenberg R A & Son (920) 693-8741, and many more. photo attribution: ufv