The nursing assistant training centers that are found in Cleveland, Mississippi are shown to you in detail on the list below. If you want to get hold of the facility, you may do so by calling the number provided below each school. These course have all been recognized by the state registry and will allow you to qualify for the certification tests.
Superior Healthcare Services, Inc.
201 West Sunflower Road,
Cleveland, MS 38732
(662) 843-0030
Bolivar County Community Action Agency
810 East Sunflower Road, Suite 120,
Cleveland, MS 38732
(662) 846-1491
http://www.co.bolivar.ms.us/bccaa.htm
For you to be able to work in Mississippi as a nurse aide, you must have a CNA certification. The only way for you to get one is if your name is added to the Nurse Aide Registry. One way of getting you name on the list is by passing the license exams which is composed of a written/oral exam and a skills evaluation.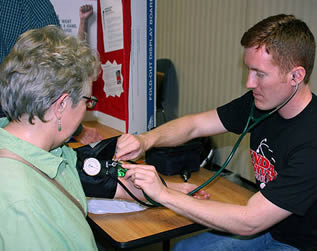 Generally you must fit in to one of the following criteria to become eligible to take the nursing assistant exams in Mississippi:
1. Completed state approved training
2. Graduate of a nursing program
3. Out-of-state graduate nurse
4. Certified nurse aide from another state
5. Previously certified nurse aide with a lapsed license
Unlike the written exams, the oral examination has two parts. The second part is a 10 item test on the different terms that are commonly used in the healthcare facility. To pass the oral exam, the applicant must be able to pass the two parts. The first part is the 60 item multiple-choice test. Each question as well as its choices will be read twice by the examiner.
.
In the skills evaluation, the applicants will be placed on a certain scenario that is very much similar to the actual setting. They will be asked to perform a set of randomly selected nursing procedures which they may do satisfactorily. Examples of such procedures will include proper hand washing, application of knee-high stockings, assisting in the patient's ambulation, and helping with other daily activities.
Cleveland, which has been nicknamed C-town, is a city that is located in Bolivar County. It is one of the two county seats that serve the County; the other being Rosedale. This city was named after President Grover Cleveland, back when it was still forming in 1869. According to the 2010 census, their total population was estimated to be 12,334. With a total area of 7.3 square miles, this city has a fairly high commercial economy.
The main healthcare centers that are serving this city are Bolivar Medical Center and North Sunflower Medical Center. Other healthcare providers that are located in Cleveland include Cleveland Foot Clinic Inc, Tibbs Clinic, Renal Care Group, Ahmed Bolivar Medical, Trinity Health Clinic, Mississippi Sports Medicine, Davidson's Eye Clinic, and many more. photo attribution: iubmedicalsciences