The nurse aide training schools in Cleveland, Georgia that are shown on this page offer all of the state approved programs that you can enroll in. Contact one of the facilities to find out more information about how you can become certified.
Gateway Nursing Home
3201 Westmoreland Rd.,
Cleveland, GA 30528
(706) 865-5686
White County High School
2600 Hwy 129 North,
Cleveland, GA 30528
(706) 865-2312
The first step in becoming a nursing aide in this state is to choose a nurse aide training program to enroll in. CNA programs in this state are referred to as Nursing Aide/Assistant Training Programs or NATP. Before you enroll in a program, you should make sure that it is approved by the GMCF so you can be assured that you will be able to take the license exams after you apply. The license exam is a necessary step in becoming a nursing assistant in this state because the state does not allow its nursing aides to work without any proper training or certification. Most license exams in this state only take about 2 to 6 months to complete.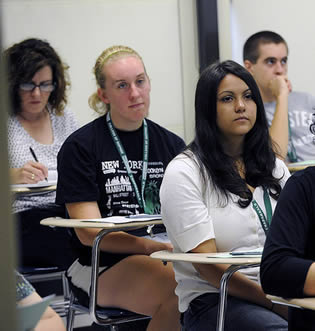 Training in state-approved programs is composed of clinical rotation, classroom lectures, and lab rotations. Before you can go to clinical area for your clinical experience, you are required to have a 100$ rating in the lab. You will not be able to proceed if you do not get a perfect rating.  To complete your training, you must have at 85 hours of total training, where at least 24 hours of it is assigned to clinical duties.
After you complete your training, you will be eligible to apply for the license exams. You will need to submit the necessary documents like the application forms, high school diploma, fingerprint cards, ID photo, passport sized pictures, immunization records, and the payment for the different exam fees. Passing the results for the background checks is the most important document that you submit during your application. You will not be allowed to proceed and take the exams if you fail the checks for criminal records.
Cleveland is the county seat of White County. It was founded back in 1812 and was named after Colonel Benjamin Cleveland, who was one of the heroes in the Revolutionary War. According to the census of 2000, their total population was around 1,907 people. It has a total area of 3.2 sq miles, where all of it is land. Its population density is estimated to be 595.9/sq mile.
The Babyland General Hospital is the main hospital that is serving this city. Other health care facilities that you can find here as well, include White County Mental Health Center, Neighborhood Healthcare Rehab Services, Gateway Health & Rehab LLC, Avita Community Partners, and Natural Health Center. photo attribution: codnewsroom