Training courses to become a certified nursing assistant in Claremore, Oklahoma are shown below. Applicants should contact a school listed and speak with a representative to learn more about the steps needed to become licensed to work, and receive information on how to enroll.
Oklahoma Veterans Center
3001 West Blue Starr Dr.,
Claremore, OK 74017
(918) 342-5432
(LTC courses are also available)
There are several requirements in the state of Oklahoma for you to become a CNA. One major requirement is that you must complete a nursing assistant training program with the required number of hours. If you complete the program, you can then try to apply for the state license exams.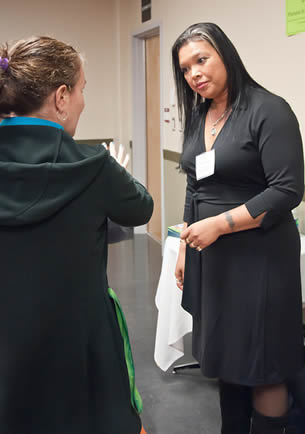 There are six different classifications of a nursing assistant. These include long term care aides, home health aides, disabled direct care aides, residential care aides, adult day care aides, and certified medication aides. Some of those classifications are considered advance and requires that you must first enter the Oklahoma Nurse Aide Registry before you can train in their respective programs. Among them, you can enter the NAR by becoming certified as either a long term care aide or a home health aide.
If you want to work as a nursing assistant who is allowed to function in the residents' home, then you should become a HHA. The certification processes for the two are basically the same. First you will need to enroll in a training program that is approved by the State Department of Health. You can find these programs offered by your local colleges, private training institutions, nursing home, and hospitals.
As soon as you are done, your next step is to challenge the LTC /HHA (Deeming) competency exam. This exam is also offered by the Headmaster Testing Services. You can download a copy of the HHA candidate handbook from their website at www.hdmaster.com or call them for any questions you may have at (800) 393-8664.
The first part of the exam is the multiple-choice knowledge test. In this part, you will be given a maximum of 90 minutes to answer all the 72 questions. You must score at least 70% to pass the knowledge test. Candidate who may have problems with the written exam may request to have its oral version instead. They will have to pay some additional fees and request for it during their application.
The second portion of the exam is the skills test. In this part, you will be given 45 minutest to perform 5 nursing skills. Out of the 5, only 3 will be randomly selected. The two procedures will always be Hand washing with blood pressure taking and ambulation with TPR. You can find the list of the other procedures in the candidate handbook. You must perform all the skills with at least 80% proficiency to pass this test.
If you pass both portions of the exam, your score records will be sent to the Department of Health, where they will then enter your name on the NAR. If you wish to view your results immediately, you can go to the Headmaster website. A copy of the test results, along with your nursing assistant card, will also be sent to you in the mail on the same day that they were scored.
Your card will only be valid for 2 years. You need to renew it before its expiration. The expiration date will fall on the same day that your name was entered on the NAR. The necessary forms will be sent to your mailing address. If you do not receive them at least 1 month before your certification expires, you can download them at http://www.ok.gov/health/Protective_Health/Health_Resources_Development_Service/Nurse_Aide_and_Nontechnical_Services_Worker_Registry/Nurse_Aide_Registry_Applications_and_Forms/index.html#NATCEPApps.
Claremore is the county seat of Rogers County. As of the census of 2009, their total population had reached up to a total of 18,581 residents. The city has an estimated population density of 1,319.4 people per square mile. The total area of Claremore is approximately 12.3 sq miles, where the vast part of the area is land. Major highways that you can use to get to the city include Interstate 44, State Highway 66, and State Highways 88 and 20.
Examples of health care centers that are available to you and are found in the area include Take Care Clinic at select Walgreens, Kovacs Stephen R Doctor of Osteopathi, Claremore Physicians Immediate Care, Omni Medical Group, Senior Health Center, Alcohol Abuse Information and Referral – Grand Lake Mental Health Center, Women's Healthcare of Rogers County Inc., Northeast Oklahoma Women's Clinic, and Creoks Mental Health Services Inc. photo attribution: ufv