Available nursing assistant schools that are open in Chippewa Falls, Wisconsin are listed below. These courses offer the most recent license training that is open for enrollment. For more information about classroom instruction, please call the number below.
Wissota Health & Regional Center
2815 County Highway I
Chippewa Falls, WI 54729
(715) 720-2797
If you are thinking about starting a career in the healthcare, then why don't you try considering becoming a certified nurse aide. Certified Nurse Aides or CNAs are entry-level professionals and work under the supervision of RNs and LPNs. Compared to other healthcare career options, training to become a nurse aide is relatively easier, quicker, and cheaper.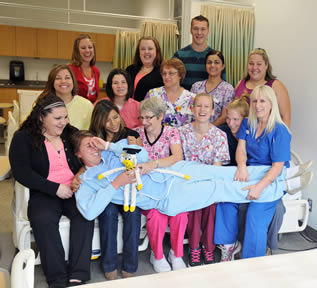 Another great advantage of become a nurse aide is there are numerous routes which you can take to become one. You can become a nurse aide in Wisconsin through any of the following routes listed below:
–    New Nurse Aide
–    Student or Graduate Nurse
–    Military-Trained
–    Out-of-State With Active Certification
–    Foreign-educated Nurse
–    Out-of-State Student
–    Home Health Nurse Aide
For Those Brand New to The Occupation of a CNA
New nurse aides are individuals who have had no training in providing these health care services whatsoever. These individuals have to start from the very beginning; enrolling in a state-approved training program. Approved NATPs in this state are required to offer at least 120 hours of training, of which 32 are allocated for supervised practical training. Students are taught about infection control, basic nursing skills, personal care, patient rights and independence, emergency procedures, human anatomy, medical terms, any many more. Most of the training programs in the state take around 2 to 6 months of continuous training to complete.
Student Nurse or Graduate Nurse
A student or graduate nurse who has not taken the NCLEX-RN or NCLEX-PN may submit an original transcript of records and a Student/Graduate Nurse Verification Sheet (http://www.dhs.wisconsin.gov/forms1/f6/f62696.pdf) to verify if he/she has met all training requirements to become eligible for the NNAAP exam. You can find out other requirements by following this link: http://www.dhs.wisconsin.gov/publications/p0/p00225.pdf.
Military-Trained Nurse Aide
This route is for individuals who were either trained as military medics or corpsmen. Their military-training will grant them eligibility to take the NNAAP exam once. If they fail, they will have to complete a state-approved NATP in order to become eligible to reapply for the NNAAP exam. Other important requirements and information can be found here: http://www.dhs.wisconsin.gov/publications/p0/p00225a.pdf.
Out-of-State With Certification
A certified nurse aide from another state can transfer his/her certification and work in Wisconsin. Applicants must have a clean record and an active certification. Applicants must not have any records of patient abuse, neglect, or misappropriation of their properties; they must not be on the Abuse Registry.  These applicants are still required to undergo and pass the federal and state criminal background checks.  You can get an application packet by going to www.pearsonvue.com or by calling them at (877) 329-8760.
The National Nurse Aide Assessment Program
The NNAAP exam consists of a multiple-choice knowledge test and a skills evaluation exam. Candidates have the option to choose whether to take the knowledge test as a written or oral examination.  Candidates are required to pass both tests in order to gain entry into the Nurse Aide Registry. Each candidate is given only three attempts. These attempts are only valid within 1 year after completing one's training. If you fail your 3rd attempt or pass the 1 year deadline, then you will have to undergo retraining.
This city is a part of Chippewa County. You can find this city on the Chippewa River. Chippewa Falls is also the seat of the county. According to the census of 2010, their total population was around 13,661 people. It has a total area of approximately 11.4 sq miles and has a population density of 1,199.4/sq mile.
The Saint Joseph's Hospital and the Wissota Healthcare Regional Vent CT are two of the biggest employers in the city. Other health care providers that you can find within the city include Mayo Clinic Health System – Chippewa Valley, United Healthcare Group, Rosebud & Friends Drop-In Center, Our House Senior Living Memory Care, Marshfield Clinic, and many more. photo attribution: ufv