The training in Chatham, Virginia that is open for students to become nursing assistant are shown below. School course are required to meet state standards and all applicants will be tasked with completing a set number of hourly instruction.
Pittsylvania Vocational Education Center
11700 US Highway 29
Chatham, VA 24531
(434) 432-9416
The Nurse Aide Registry is a master list of all the nursing aides who were able to meet the federal and state's training and testing requirements.  A person may only work as a nursing aide in a state-certified nursing facility if his name is on the Registry. There are two general ways to get your name entered into the NAR: you can either take the National Nurse Aide Assessment Program exam or apply for CNA Endorsement.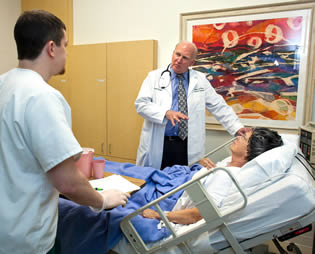 Challenging the NNAAP Exam
The NNAAP exam is divided into two parts – a written/oral test and a random skills evaluation. Both tests are conducted on the same day at an approved testing facility with the help of Pearson VUE. In order to gain entry into the NAR, a candidate must pass both tests.
Before you can take on the exam, you'll need to establish eligibility by successfully completing a state-certified training program. You can either enroll in a CNA training program or complete at least one semester of nursing school. The former is the more common and quicker route.
CNA training in the state takes about 2 to 6 months to complete. Their curriculum consists of at least 75 hours of both lectures and supervised clinical practice. Students are handled by a qualified nursing aide instructor during the entire duration of the program. They are taught basic nursing skills and principles like infection control, mental health, communication techniques, emergency care, nutrition, vital signs, and many more.
CNA Certification through Endorsement
This process is only offered to individuals who are already certified in another state as nursing aides. This process allows them to work in Virginia without the need to take any tests. To be eligible for endorsement, they must have a valid certification and a clean record. Their names must not be on the Abuse Registry. Each state has its own set of requirements for Endorsement, that's why interested individuals are asked to contact the Board of Nursing at (804) 367-4569.
The endorsement process varies depending from state to state. The duration is greatly affected on how fast a state can produce proof of certification for the applying applicant. To avoid any problems with waiting for the unknown, we suggest that you contact your state's NAR and ask.
This is a town that is a part of Pittsylvania County. It is also a part of the Danville, Virginia Metropolitan Statistical Area. Aside from that, it is also the county seat of Pittsylvania. According to the 2000 census, they had a total population of 1,338 people. It has a total area of 2.0 sq miles and has a population density of 654.6/sq mile.
Examples of health care providers that you can find near the area include Pittsylvania County Environmental Health Department, Angel Wings Home Health, Chatham Family Medical Center, and many more. photo attribution: codnewsroom