The nursing assistant training classes that are currently available in Chambersburg, Pennsylvania are listed for you here. Contact the facility using the phone numbers listed on this page to get the latest certification requirements, program tuition fees, or course curriculum.
Franklin County Career and Technical Center
2463 Loop Road,
Chambersburg, PA 17201
(717) 263-9033
Institute for Caregiver Education
612 Chambersburg Mall,
Chambersburg, PA 17202
(717) 263-7766
Nursing assistance is a very popular course in Pennsylvania nowadays. This is probably because of the increasing demand for health care providers not just within the state, but in others as well. Training to become a nursing assistant is faster and much more affordable compared to other careers such as nursing. You can use the nursing assistant training and experiences as a stepping stone when you wish to aim for a higher degree.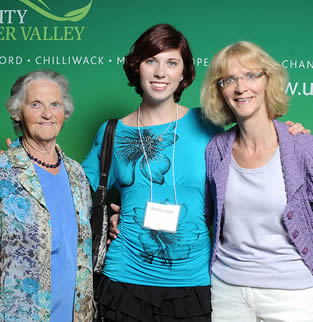 Nursing assistants have constant interaction with patients. Because of this, nursing assistants must learn how to properly take care of the individual needs of each patient. The education and training needed to be a competent nursing assistant can be acquired by enrolling in certified CNA classes. One can also achieve similar results by enrolling in a nursing school to learn the Fundamentals of Nursing.
CNA classes consist of a minimum of 80 hours of training. When you enroll, you'll be spending a lot of time in the classroom and laboratory for theoretical coursework and in the clinical area for 37.5 hours of supervised clinical practice. The two parts of training are done at the same time. Depending on a training facility's schedule, you can complete your training within 6 months.
A certification is needed to work as a nursing assistant in a Medicaid/Medicare long-term care facility. You can get certified by taking the National Nurse Aide Assessment Program exams right after you complete your training. This exam comprises of a multiple-choice written (or oral) test and a practical skills test. You'll need to pass both parts to get certified.
Each NNAAP exam applicant is given 3 attempts to pass. These attempts are valid within 24 months after the applicant has completed training. During retakes, an applicant is only required to take the exam, he or she failed. However, a candidate who has failed for 3 times must undergo retraining and must retake both parts of the NNAAP exams, not just the part he/she failed.
Once an applicant passes both tests, the applicant's name will be entered on the Nurse Aide Registry. The NAR will send the newly certified nursing assistant's Registry card to his address within 3 weeks after passing. The CNA can show this card to his employer to prove that he has met all requirements necessary to work as a full-time nursing assistant in a federal long-term care facility.
Nursing assistant certifications are only valid for 2 years. CNAs must renew their certification before they expire to maintain their eligibility to work as certified nursing assistants. The Department of Health requires all certified nursing assistants to work for at least 8 consecutive hours (one day's work) while under the supervision of a registered nurse. Certificate holders can now go to www.pulseportal.com to renew their certifications on-line.
To get the latest requirements of the PA nurse aide registry you can call the company that handles questions, Pearson VUE at 1-800-852-0518. To find the closest testing facility you can contact the American Red Cross at 1-800-795-2350.
Chambersburg is the county seat of Franklin County. It is a borough that is in the South Central region of the state. It is only a few miles from Maryland ad is about 52 miles from Harrisburg. Chambersburg is a principal city of the Chambersburg Micropolitan Statistical Area. As of the 2010 census, their total population had reached up to a total of 20,268 residents. It has a population density of 2,652.5/sq mile. The total area of the city is estimated to be about 6.9 square miles, where all of it is land.
The Keystone Walk-In Care, Fifth Ave Laboratory, HIV SERVICES – Keystone Health, Keystone Family Medicine, Adams-Hanover Counseling Services Inc., Universal Community Behavioral Health, Martzluf Douglas R MD Summit Health Center, Pellegrino Daria Certified Physicians, Spectrum Health & Wellness LTD, Pennsylvania Counseling Services, and Health Network Laboratories are examples of health care providers that you can avail in the borough of Chambersburg. photo attribution: ufv