On this page you can find the state approved nursing assistant programs that are open in Carthage, Missouri. Classes will provide you with course work, lectures, and skills training in order to help you receive your certification. By calling the school contact number you can receive further information about what to do next.
Carthage Technical Center
609 River Street,
Carthage, Mo 64836
417 359-7026
http://www.carthage.k12.mo.us/tc/
Because of the high demand for nursing assistant, it is possible for a nursing facility to hire an individual, who is still not on the Registry, as a nursing assistant. From the start of the individual's work, he must immediately enroll in a state-approved training program and take the license exams afterwards. All of this must be done within 4 months from the start of work.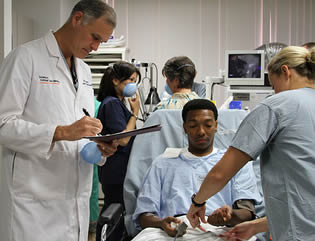 During that time, the hiring facility will need to take responsibility for the individual that they hired. A nursing assistant who is not certified will only be allowed to provide services or do procedures that have been taught during training. One must also be found competent on the said skill or procedure.
For individuals who are working in a nursing facility, they will need to check with their director or charge nurse and ask if they are able to give the proper training and offer the license exams. If not, then the individual will need to look up approved facilities that are within driving range.
For students who were enrolled in a facility who lost their ability to offer CNA classes, they will still be allowed to finish their classes, if they were enrolled before the facility receive the notifying letter from the Health Education Unit.
Those who become certified and able to work long-term in health care centers will still be required to renew their status in the registry. This entails getting your employer to give you work verification of time spent on the job. This is currently set at a minimum of 8 hours working as a nurse aide for every 24 months. You can call the Missouri Certified Nurse Assistant Registry by dialing 573-526-5686 to get answers to questions you may have about requirements, or try emailing your inquiries to: info@health.mo.gov.
Carthage is the county seat of Jasper County. It is known as "America's Maple Leaf City". It also belongs to the Joplin, Missouri Metropolitan Statistical Area. According to the 2010 census, their total population has reached up to 14,378 people. Carthage has a total area of approximately 9.6 sq miles and a population density of 1,328.2/sq mile.
Examples of health care centers that you may find in the area include Take Care Clinic at select Walgreens, Carthage Children's Clinic LLC, Ozark Center – Carthage Clinic, Physicians for Women's Health, Carthage Occumed Clinic, Family Medical Center of Carthage, Mccune-Brooks Regional Hospital, Senior Life Solutions, Sacry Family Medicine, Natural Life Health Centre, and Community Clinic of Carthage. photo attribution: armymedicine