The nursing assistant classes in Carrollton, Georgia that are currently available for enrollment are shown to you on this page. These programs have been licensed and meet current certification requirements. Call the phone number for the school to speak with a program administrator to learn how you can join their program.
Carrollton Nursing and Rehabilitation
2327 North Highway 27,
Carrollton, GA 30117
(770) 834-4404
Website: http://carrolltonhealth.com/
Village Samaritan, LLC
907 South Park Street,
Carrollton, GA 30117
(770) 830-5683
Website: http://villagesamaritan.com/
One of the most important requirements that you must comply with is the completion of a certified NATP. If you finish a program, you will become eligible to apply for the license exams for the state of Georgia. When you are looking for a program to enroll in, you must make sure that the program is approved by the GMCF. They are the private company who oversee all Nursing Assistant Training and Competency Programs. This is done in order to improve the quality of care that is given by nursing assistants.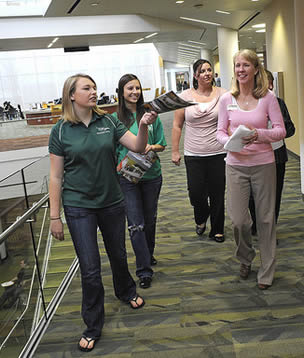 After you complete your training, you can then apply for the licensee exams. The license exams in this state are composed of a written and a skills demonstration exam. The written exams are sometimes replaced with oral exams. In order to get your name entered in the state's Nurse Aide Registry, you have t o pass the all the exams. Once your name is entered, you should maintain this status to be able to apply for work.
CNA licenses in this state need to be renewed every two years. Federal regulations require that you must have worked for at least 8 hours with pay during that time. If you failed to work during that period, you will be required to retake the exams if you want to remain in the registry. Every applicant is given 3 chances to pass the exams within 1 year. If you feel that you are not yet ready to take the exams, you can postpone it for up to 24 months.
This city is located in the western portion of the state. It is the county seat of Carroll County. You can find this city in the foothills of the Appalachian Mountains. The city was founded back in 1826 and was named after Charles Carroll of Carrollton. According to the census of 2010, their total population was around 24,388 people. It has a total area of 20.7 sq miles and has a population density of 983.7/sq mile.
Examples of health care facilities that you can find in the area include Family Healthcare of West Ga, Willowbrooke At Tanner, STD Test Express, Carrollton Family Healthcare, Tanner Family Healthcare, Children's Healthcare of West Georgia, Orthopaedic Clinic, Fresenius Medical Care, and Healthcare for Women. photo attribution: codnewsroom