Applicants who enroll in nurse aide training classes in Carrington, North Dakota will receive common health care procedural and theory instruction to help them prepare for the license tests. If you know of other recognized nursing assistant training programs located here, please send them to us and we will add them to the page.
Golden Acres Manor
#1 East Main Street,
Carrington, ND 58421
(701) 652-3117
http://www.goldenacresmanor.com/
A lot of experts say that the best way to start a career is in health. There are now an increasing number of people who are more concerned about their health, which means that there will also be an increase in the number who will look for help when needed. This means that there will be greater demand for healthcare professionals. Becoming a CNA in North Dakota is very practical since the training is quick and affordable.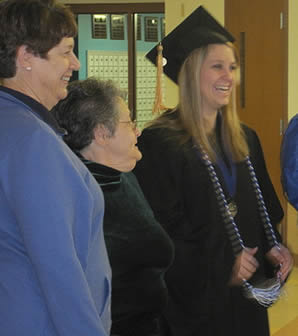 CNA courses in the state are generally offered by community colleges, technical schools, private training centers, nursing homes, and hospitals. A state-approved course must offer a minimum of 75 hours of training, which will be divided into lectures, laboratory works, and clinical practice. Subjects such as infection control, mental health, rehabilitation, personal care, communication skills, and medical terms will be taught in the courses.
In order to work as a nursing aide in the state, one must be certified and gain entry into the state's Nurse Aide Registry by passing the NNAAP exams. The exam consists of a written exam and a clinical skills evaluation. Each candidate is given 3 attempts to pass both exams within 24 months from completing the necessary training. If you fail after the 3rd attempt, you will be required to retrain before you can retake the exams.
The exam results for North Dakota are usually released on the same day. If there are any problems with Pearson VUE's system, the exams will be mailed to their office for manual checking. You should expect for the results to be mailed back within 5-7 working days.
If you passed, your name will be entered on the NAR automatically. You will also receive in the mail your CNA license, which is valid for 2 years. If you lost your license and wish to get another one, you may fill out a request and send it to Pearson VUE along with the money order of $15 as fee. The form can be sent to:
Pearson VUE
Nurse Aide Processing Center
Po Box 13785
Philadelphia, PA 19101-3785
Carrington is the county seat of Foster County. Founded in 1883, this city is also called as Central City. As of the latest census taken there, their total population was estimated to be around 2,065 people. They have a population density of 978.2/sq mile. The total area of the city is estimated to be around 2.11 sq miles, where all of it is land. Major roads that you can use to get to this city include U.S. Highway 281, U.S. 52, and State Route 200.
Examples of health care providers and centers that are found in the city include Schaffer Todd MD, Geier Rick MD, Page Michael MD, Foster County Medical Center, Carrington Health Center – Clinic, Carrington Health Center – Home Health Service, Carrington Health Center – Holy Family Villa, DNA Paternity Testing Centers , Sanford Orthopedics Sports Medicine, and many more. photo attribution: mattJhsn