You can find the certified nurse aide classes in Canoga Park, California in the list that is provided below. The detailed list includes phone numbers and addresses that you can contact or go to if you have any questions that need to be answered about nursing assistant certification.
American Red Cross
6800 Owensmouth; Suite 140
Canoga Park, CA 91303
(800) 627-7000
Trinity School Of Nursing
21515 Vanowen Street #216
Canoga Park, CA 91303
(818) 518-1074
A CNA certification is a requirement to work as a nurse aide in California. There are generally two ways for you to get certified in this state. You can either take the National Nurse Aide Assessment Program or apply for Reciprocity.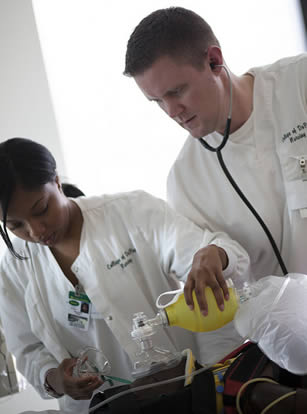 Nursing Aide Assessment Program Eligibility
Aspiring student nurse aides who wish to take the NNAAP exam must successfully complete a 150-hour CNA training course that is approved by the California Department of Public Health. You can find these programs offered by hospitals, nursing homes, community colleges, private institutions, government organizations, and even websites.
You can also establish eligibility by attending one semester of nursing school as a nursing student. Taking up some units on the Fundamentals of Nursing will also make you eligible to apply. When you submit your Initial Application Form (http://www.asisvcs.com/publications/pdf/070503.pdf) to the CDPH, you must include proof of your training and education.
Taking the NNAAP Exam
This exam was developed to test all nurse aide candidates. It is a two part exam that consists of a 70 item multiple-choice test and a skills evaluation exam. Both tests are conducted on the same day at approved testing centers throughout the state, so candidates must plan their day accordingly. Candidates must pass both tests to get a CNA Certification.
Applying for Reciprocity
A nurse aide who is certified in another state can transfer his or her certification and work in California by applying for reciprocity. Those who wish to apply for reciprocity must submit the following to the ATCS:
•    A certified copy of the state-issued nurse aide certificate
•    Proof of work within the last 2 years as a nurse aide (only for applicants who have been certified for more than 2 years).
•    A copy of the completed Request for Live Scan Services
•    Completed Verification of Current Nurse Aide Certification form (must be submitted by the endorsing state)
•    Completed Initial Application form
Canoga Park was formerly known as Owensmouth. It is a district in the San Fernando Valley of LA. It is about 25 miles northwest of downtown Los Angeles. You can see Woodland Hills on its south, West Hills on the west, Chatsworth on the north and Winnetka on the south. It has about 60,578 citizens as of the 2008 census and a land area of 4.35 sq mi.
The health care centers in this city are West Hills Alarm Co (818) 710-1111, Holman Consulting Corp (323) 461-6657, Valley Women's Center Inc. (818) 713-8700, Hhc Health Care (818) 884-6100, Hart Street PTA Dental Clinic (818) 883-1029, Select Care Home Health Services Inc. (818) 885-8378, Valley View Medical Clinic (818) 999-5900, and Van Val Home Health Service (818) 717-0777. photo attribution: codnewsroom