The nurse aide programs providing enrollment in Cairo, Georgia that are shown on this page are all the state authorized courses that you can enroll in. Contact the program director using the phone number below to get details on how to get started.
Cairo High School – Grady County Vocational Center
455 5th Street SE,
Cairo, GA 39828
(229) 377-2044
The completion of a Nurse Aide Training Program or NATP is the first thing that you must complete. When you complete a state-approved training course, you will become eligible to apply for the license exams. These programs are found all over the state and are offered by different institutions like colleges, high schools, nursing homes and community training centers. It takes an average of 6 months to complete your CNA classes. When you complete your training, you must have at least 85 hours of instruction, where 24 hours of it is allocated to working in the clinical area.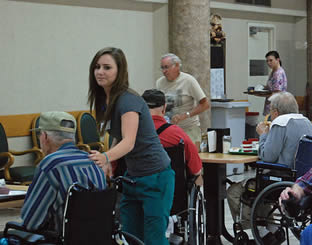 The license exams in this state are composed of two parts, a written/oral exam and a skills evaluation. In order to get your name entered in the state's Nurse Aide Registry, you must pass all the exams. Every student is allowed to take the exams up to three times within one year. If you failed for the third time, then you will be required to undergo retraining before you can take it again.
If you are already working as a nursing assistant in a nursing home, you will be required to complete a training program and the license exams within 4 months from the start of your work. The state does not allow any nursing facility to let an individual without the proper training and documents for more than 4 months.
This city is the county seat of Grady County. It was been nicknamed as the "Syrup City" and "Georgia's Hospitality City". According to the census of 2010, their total population has reached up to a total of 9,607 people. It has a total area of approximately 9.4 sq miles and has a population density of 992.0 people per square mile.
Health care providers that you can fidn in the city include Floore Stephen L MD PC, Jackson Oscar D Jr MD, Rose City Orthopedics, Hester & Steinberg Md's PA, Grady Primary Care, Archbold/Grady Specialty Clinic, Walden Linda I MD, Pediatric Center LLC, and many more. photo attribution: komunews