The certified nurse aide classes in Bradford, Pennsylvania that are being offered as of the making of this page are listed below. You can contact one of the schools listed here to get the latest enrollment dates, and program requirements.
Bradford Area High School
81 Interstate Parkway,
Bradford, PA 16701
(814) 362-3845
Bradford Regional Medical Center
116-156 Interstae Parkway,
Bradford, PA 16701
(814) 362-8706
If you want to enter the medical industry then becoming a nursing assistant is an excellent way to do so. Nursing assistants get to help patients with the use of the basic health care skills. The job also does not take that long to become certified and the cost is low. If you want to proceed to a higher career in the medical field, then being a CNA is a good way to gain experience in the industry.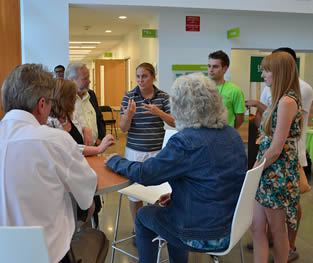 The State of Pennsylvania won't allow a person to work in a federal long-term health care facility as a nursing assistant without a certification. Like many states, getting certified will require you to undergo criminal background checks, attend CNA classes, and take a competency exam to prove that you are a good enough to work as a full-time nursing assistant.
Criminal Background Checks
There are two levels of background checks – state and federal. Unlike most states, nursing assistant candidates may not need to undergo both levels. Candidates who have been living in Pennsylvania for the last 2 years are only required to get the Pennsylvania State Criminal History Record Information or PA-CHRI. Those who were not a resident that long must get the PA-CHRI and an FBI background check.
Fees:
PA-CHRI – $10
FBI Checks – $28.75
CNA Training Classes
It's easy to look for a suitable training school in the state since they are offered almost anywhere now. Candidates just need to remember to look for a program that's approved by the state's Department of Education to make sure that they get to take the competency exams after they complete their training. Approved training curriculum in the state is required to offer at minimum of 80 hours, of which 37.5 hours are allocated for supervised clinical practice. The average class length in the state lasts around 12 to 16 weeks. If you don't want your training to take that long, then you should try the American Red Cross 4-week CNA training classes.
Fee: $350-$1,500
CNA Competency Exams
Those who complete the training are allowed two years to successfully pass the license exams. The exams are held at a variety of location and you can call the American Red Cross at 1-800-795-2350 to find the nearest one to you. The exams consist of a multiple-choice knowledge test and a random skills evaluation. Both tests are conducted on the same day at an approved testing site. Only candidates who completed a certified training program are allowed to take the competency exams. Applicants who still do not have the application forms may get them by calling the ARC at (800) 795-2350 or visit www.pearsonvue.com.
Testing Fees:
Written and skills exam – $102
Oral and Skills Exam – $102
Written Exam Only (for retakes) – $32
Skills Evaluation Only (for retakes) – $70
Oral Examination Only (for retakes) – $32
Payment must only be in the form for a money order or cashier's check. Cash, personal checks, and credit card payments are not accepted. Testing fees and application forms must be placed in one envelope and sent to:
American Red Cross
Competency Evaluation Program
1804 North 6th Street,
Harrisburg, PA 17102
Nurse Aide Registry
The names of the competency exam applicants who pass both tests will be placed on the Nurse Aide Registry. The NAR will then send their Registry Cards to the mailing address they provided on the application forms they submitted. They can work in any long-term care facility as CNAs so long as their names are on the NAR. Names only remain on the registry for up to 2 years. Nursing assistants must renew their registration to keep their eligibility to work in a certified health care facility.
This small city is a part of McKean County. It is only a few miles from Buffalo, NY. First settled in 1823, it was only in 1879 that it was chartered as a city. As of the 2000 census, their total population had reached up to a total of 9,175 people. They have a population density of 2,659.7/sq mile. The total area of the city is estimated to be about 3.5 sq miles, where all of it is land.
Health care centers that are located in the area include VA McKean County Outpatient Clinic, Beacon Light Behavioral Health Systems, Beacon Light Behavioral Health Systems Community Based Services – McKean County, Care for Children, Gambro Healthcare, Deerfield Behavioral Health, Sleep Clinic of Brmc, Dickinson Mental Health Center-Partial Hospitalization Program, and many more. photo attribution: ufv